7 Upcoming Christian Movies We're Eagerly Anticipating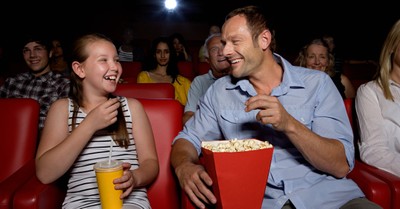 By Michael Foust, Crosswalk.com
Christian movies historically have been an easy target for film critics.
For starters, those critics often don't share the same worldview as the filmmakers. Additionally, some of the movies contain an element of "cheesiness" that can make you cringe. (This, by the way, is true of many mainstream movies, too).
The good news? Today's Christian movies are light years ahead of the ones of yesteryear -- and in many cases on the same level as Hollywood hits. In 2015, a Christian movie (War Room) climbed to No. 1 at the box office for one weekend. In 2020, another one (Breakthrough) received an Oscar nomination.
A good Christian movie not only entertains but also inspires and convicts. It can even make you cry.
The next few months have a lot to offer for fans of Christian movies, with seven excellent choices by some of the industry's top filmmakers.
Here is the list:
I Heard the Bells (Dec. 1-4) -- It's the inspiring backstory to the 1863 Christmas carol (I Heard the Bells on Christmas Day) and its author, Henry Wadsworth Longfellow. It's the first dramatic theatrical film by Sight and Sound Films, a company launched by Sight and Sound Theatres to "bring hope, truth and inspiration to the silver screen," said Matt Neff, chief executive officer of Sight and Sound. If the films are as good as Sight and Sound's excellent theatrical productions, then we're in for a treat. Visit IHeardtheBellsMovie.com.
Johnny Cash: The Redemption of an American Icon (Dec. 5-7) -- The Christian faith of music legend Johnny Cash is examined in a documentary featuring individuals who either knew him or who were impacted by him, including sister Joanne Cash Yates, his son John Carter Cash as well as Marty Stuart, Wynonna Judd, Jimmie Allen, Alice Cooper, Greg Laurie, Sheryl Crow and Tim McGraw. It was made by Kingdom Story Company, the same company that produced I Can Only Imagine, I Still Believe, American Underdog and Woodlawn. Visit JohnnyCashMovie.com.
The Chosen: Season 3 (Nov. 18) -- The groundbreaking television series about Jesus and the disciples continues in this theatrical film, which includes Episodes 1 and 2 and is being billed as the "most emotional and consequential season of The Chosen to date." A trailer depicts Jesus delivering the Sermon on the Mount. Nearly 100 million people worldwide have watched The Chosen, according to data compiled by its distributor. Elizabeth Tabish, who portrays Mary Magdalene, says the series has impacted her own faith. Speaking of her character, she told Crosswalk, "If she can be redeemed and saved and loved deeply by Jesus, then any of us can." Visit TheChosen.TV.
Jesus Revolution (Feb. 22) -- A California pastor named Chuck Smith welcomes hippies into his church, helping spark the Jesus Movement. The film is based on the true story of Lonnie Frisbee and Greg Laurie, two young men of the 1960s/70s who found spiritual freedom in Christ as the culture around them embraced deviancy. (Laurie released a 2018 book of the same name.) It stars Jonathan Roumie (The Chosen) as Frisbee, Kelsey Grammer as Smith and Joel Courtney as Laurie. Jon Erwin (I Can Only Imagine) and Brent McCorkle (Unconditional) co-directed it. "The message for today is that there's hope," Erwin told Crosswalk. "All that we're going through right now -- we faced a similar time and a similar moment [years ago]. And God showed up in this nation." Visit JesusRevolution.Movie.
5,000 Blankets (Dec. 12 and 13) -- A woman is inspired to help the homeless when her husband -- who has a mental illness -- goes missing. Inspired by a true story, the story tells how Cyndi Bunch and her son, Phillip, turned tragedy into triumph. It is being released by Affirm Films, the same studio that was behind War Room and Miracles From Heaven. It stars Anna Camp (Pitch Perfect films) and Rob Mayes (Thor: Ragnarok). Rated PG-13 for thematic material involving mental illness. Visit FathomEvents.com.
Surprised by Oxford (No Release Date Yet) -- An agonistic graduate student discovers romance and faith while enrolled at Oxford University. It's based on the real-life story of Carolyn Weber, who wrote a memoir of the same name about her conversion to Christianity and later became a professor at a Christian college. The film premiered in October at the Heartland International Film Festival but has yet to release nationwide. It stars Rose Reid (Finding You), Mark Williams (Father Brown) and Phyllis Logan (Downton Abbey). Visit SurprisedByOxford.Movie.
Patterns of Evidence: Journey to Mount Sinai Parts 1 and 2 (Various Dates) -- Explorer and filmmaker Tim Mahoney searches for the true location of the biblical Mt. Sinai as he interviews experts and journeys to the region. These documentary films are the sixth and seventh installments in the Patterns of Evidence series, produced by Thinking Man Films. Part 1 was released in October, while Part 2 is scheduled to be released early in 2023. Visit PatternsofEvidence.com.
Image credit: ©Getty Images / Image Source
---
Michael Foust has covered the intersection of faith and news for 20 years. His stories have appeared in Baptist Press, Christianity Today, The Christian Post, the Leaf-Chronicle, the Toronto Star and the Knoxville News-Sentinel.