6 Date Night Movies for Christians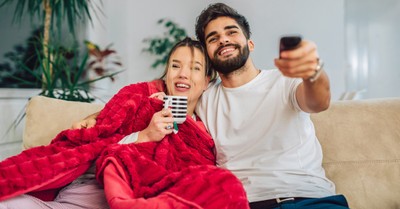 By Jaime Jo Wright, Crosswalk.com
Date night is always tricky. Once we've decided on where and what to eat, there's the big decision: movie theatre or home theatre? Most of the time, my husband and I opt for home merely because, well, pajamas, pillows, and blankets typically trump sitting still, not kicking the back of the chair in front, and the trauma of spilling popcorn without the option of refills.
Once we've determined that we're staying home, then comes the larger hurdle. That is, finding a movie we can both agree on. If you do a quick search on the Internet for date night movies, you'll get the bullet point lists of rom-coms, otherwise known as "chick flicks." I find this interesting that they're listed under "date night movies," merely because I've yet to find a man who's anxious to curl up on the sofa and watch Matthew McConaughey and Kate Hudson lock lips. But then again, no judgment towards guys who enjoys a good rom-com; it's just not stereotypical. There's also the conundrum caused when the wife/girlfriend prefers to watch a high-octane action film for date night, and the husband/boyfriend was thinking Les Mis. Or visa-versa. Add in the debate of whether the movie is appropriate for Christian viewers, whether PG-13 or R is the limit, and if we need to revert back to G.
However you spin it, the point remains solid and firm: finding a movie we can both agree on watching that also doesn't leave us feeling like we compromised on our faith, is problematic.
The good news is, if you're choosing to stay home to watch a movie, your options are far more endless in comparison to whatever is on the matinee at the theatre. This means we have a litany of streaming services, rental places, and even just plain ol' network television to offer up suggestions.
So here are some non-stereotypical, across-the-gamut, genre-busting options for date night. Some of them are obviously meant for a Christian audience, and others, maybe not so much. Hopefully, you can find something on this list that is agreeable to you both, doesn't create a crisis of faith, and avoids the presupposition that somehow all couples prefer rom-coms for date night. That being said, if you can't agree on a movie from this list, do what my husband and I do, and opt to watch two movies--his and hers. Worst case scenario, the romance will heighten when one of you falls asleep.
Option #1: Hitch (2005) – PG-13 – Will Smith & Kevin James
Well, let's hop right into what some may categorize as a rom-com, but is more appropriately labeled a comedy. While it's not a newly released movie by any means, its comedic elements stand the test of time. Kevin James plays the role of a single, can't-find-a-date guy who hires "Hitch," played by Will Smith, a smooth, classy, and well-refined dating expert. Probably the funniest moments are between James and Smith, whose on-screen chemistry pretty much negates any romantic chemistry between their female counterparts. James plays an awkward, unattractive accountant to the nines, and while all the dates "Hitch" negotiates are meant to be superb, catastrophe is just a second away. All in all, while finding true love is; the main point of the plot, it's quickly overshadowed by laugh-out-loud moments that will satisfy any comedy lover's heart.
Recommended for viewers who like to laugh, enjoy playful romance, and need to learn how to dance.
Christians: Enjoy the positivity of healthy male friendships, relationships based on character and personality rather than looks, and a feel-good ending.
Option #2: Oklahoma (1954) – G – Gordon McRae, Gloria Grahame
Never underestimate the power of a classic musical. Universally loved, Oklahoma takes us into the romance of competition, jealousy, honesty versus smarmy, and the good ol' West and cowboy hats. Throw in ranchers, ladies in beautiful dresses, and a traveling salesperson, and you've got a recipe that would make any viewer burst into song. The classiness of an old-time musical will have both of you yodeling in the kitchen when you refill your popcorn, and the nostalgia of a movie made in the Golden era of Hollywood will definitely garner some warm fuzzies. It's a great movie to snuggle up to.
Recommended for old-time movie lovers who prefer to watch light-hearted, non-intense cinema and talk during the film.
Christians: Enjoy the clean, old-fashioned fun of a classic, where language and sexual content are non-existent.
Option #3: Dances with Wolves (1990) – PG-13 – Kevin Costner
If the Wild West calls to you, and you and your significant other are full-time historical and western movie lovers, this is a classic! Set around the era of the Civil War, Costner plays Lt. John Dunbar, whose successful career in the war has earned him a position of his choice. Headed west, he quickly encounters the vast challenges that come at a post on the plains. His interactions with the Native Americans, his hesitant romance with a captive white woman, and his struggle between being a white man, and his newfound loyalty to the Tribe, make this movie a story of tug and pull.
Recommended for those who enjoy dramatic, Western tales, can tolerate some historical fictional liberties, and aren't afraid of wolves.
Christians: Enjoy an excellent historical flick with superb acting. Brace yourself for a brief sex scene, but not ultra-graphic. If historically-based violence and mild language bother you, you may want to pass this film.
Option #4: Braven (2018) – R – Jason Momoa
For many of us, we want action in our movies. Look no further. Starring Jason Momoa in a far cry from his Aquaman role, we find a logger with an intense devotion to family. Caring for his dementia-suffering father, he and his family head to their secluded log cabin, where they enter their own personal nightmare. With drug runners threatening his family, Joe Braven (Momoa) embarks on defensive combat to protect his family and property. It has a gripping, fast-action storyline and a relatable female lead, played by Jill Wagner. Your heartstrings will be pulled as you root for Joe's father, Linden, played by Stephen Lang. Together, the family will fight for each other, and that is what makes this movie relatable. At all costs, defend your family.
Recommended for viewers who don't mind violence and crude language and who prefer fight scenes over smooching scenes.
Christians: A blessedly free-of-gratuitous-sex movie. If you are okay tolerating multiple fight scenes, gun violence, and intense action, you will enjoy this film. It heralds strong family ties and will leave you cheering for a strong male character with devotion to family. If raw language bothers you, avoid.
Option #5: God's Not Dead (2014) – PG – Kevin Sorbo, Shane Harper
If you're in the mood for both a feel-good and faith-challenging movie, look no further than one classified as "Christian"! God's Not Dead takes the viewer on a powerful journey into the validity of faith, God's existence, and whether or not He is worth taking a stand for. Follow the journey of a college student who spars with his atheist professor who adamantly wants his student to renounce his faith. You'll walk away with some thought-provoking concepts, and hopefully, you'll be inspired to grow in your own faith and stand stronger than ever before.
Recommended for viewers who want a feel-good, Christian-inspired movie with no fear of outside Hollywood influences.
Christians: With no language, sex, drugs, or violence (outside of a car accident), you can safely watch this movie without fear.
Option #6: Breakthrough (2019) – PG – Chrissy Metz, Josh Lucas
Nothing will rip your heart out more than a movie where a mother fights for the life of her child. In Breakthrough, you'll be introduced to the story of Joyce Smith, who must go into spiritual battle to save the life of her son, John. When John falls through the ice, is rescued, and is considered brain-dead, Joyce drops to her knees to plead for his life. Through a miraculous series of events, this heartwarming but anxiety-riddled tale tells Joyce's story. Based on a true story, this movie will leave its viewers with a fresh perspective on the power of prayer, the fierceness of a mother's love, and the bonds of family, church family, and pastoral presence that create a circle of family and faith.
Recommended for viewers who enjoy a family drama, medical storylines, and an ending that will leave you satisfied and warmed.
Christians: No need for a filter on this movie. Language is mild, if any. The film focuses on strong family relationships and the importance of faith.
The truth of the matter is that we all have varying degrees of interests, tolerance, and even what we see as good quality for date night. The fun part about movie watching is finding what suits both of you together. Once you discover that equation, date night for Christians can be a lot of fun.
Photo credit: ©GettyImages/Jovanmandic
Jaime Jo Wright is the winner of the Carol, Daphne du Maurier, and INSPY Awards. She's also the Publishers Weekly and ECPA bestselling author of three novellas. The Christy Award-Winning author of "The House on Foster Hill", Jaime Jo Wright resides in the hills of Wisconsin writing suspenseful mysteries stained with history's secrets. Jaime lives in dreamland, exists in reality, and invites you to join her adventures at jaimewrightbooks.com!