Devotion Movie about a Mission to Bring Everyone Home, Based on a True Story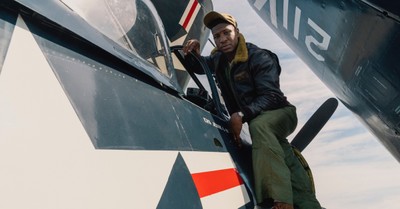 By from GodTube.com, Crosswalk.com
Devotion is a fact-based film featuring Johnathan Majors ( Loki TV series) and Glen Powell (Top Gun: Maverick, Hidden Figures) as Jesse Brown and Tom Hudner, a pair of U.S. Navy fighter pilots during the Korean War and the enduring friendship between the two men. War is bad enough when you're dealing with an enemy hoping for your demise but add to that scenario fighting alongside men who would rather see you fail, and that is the situation where Brown, a Black man, finds himself.
Brown was the first African American to go through the United States Navy's flight training school, according to CrossWalk.com.
The film's trailer hints at some of the racial animosity and hatred that Brown faced at the time simply for the color of his skin. One white man asks another white man if he "ever thought he'd be in a squadron with a colored aviator?" Additionally, a second character, who appears to be a reporter, begins to ask Brown that "it must be hard being the only," to which Brown interjects and says, "being a naval aviator?"
In the film's trailer, during a particularly emotional clip, Brown tells Hudner that in his life, he can't "tell ya how many times people have told me to give up, quit, die even " and "that's why you can't always do what you're told to do."
Despite all of this, Brown was an exemplary pilot. Very early in the film's trailer, at approximately the 20-second mark, a character remarks that "the commanding officer called you [Brown] one of the best pilots he's ever seen."
The action-packed trailer also shows a few scenes with Brown in the cockpit, zooming above the beautiful landscape, as he evades enemy fire and unloads several rounds himself. Other scenes in the trailer give viewers an even closer look at the violence that so often accompanies war as soldiers on the ground take fire.
Devotion is rated PG-13 for strong language, some war action/violence, and smoking, according to IMDB. If you want a full movie review that goes in depth about the movies themes, you can read Michael Foust's article, 4 Things You Should Know about Devotion, the Film about a Korean War Hero.
Psalm 23:4 "Yes, though I walk through the valley of the shadow of death, I will fear no evil: for you are with me; your rod and your staff they comfort me."
Photo credit: ©Sony, used with permission.
Content originally appeared at https://www.godtube.com/watch/?v=GDZZ6LNX; used with permission.