10 Surprising Jesus Movies You Should See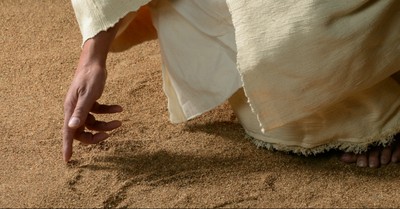 By G. Connor Salter, Crosswalk.com
You can find a movie about Jesus that features almost anything, depending on what you want. Some Jesus movies follow the Gospels pretty closely—but even there, when the movie was made informs how it shows things, making for very different movies with the same plot. Some Jesus movies play fast and loose with the biblical narrative—sometimes in heretical ways, sometimes making us see orthodox ideas in new ways.
These 10 Jesus movies provide a little of everything. They emphasize orthodox views of Jesus (nothing you'd see discussed in The Da Vinci Code), but not all of them are biblical epics. Some you've heard about, and others you likely didn't know existed. Each will help you think about Jesus' life and work in new ways.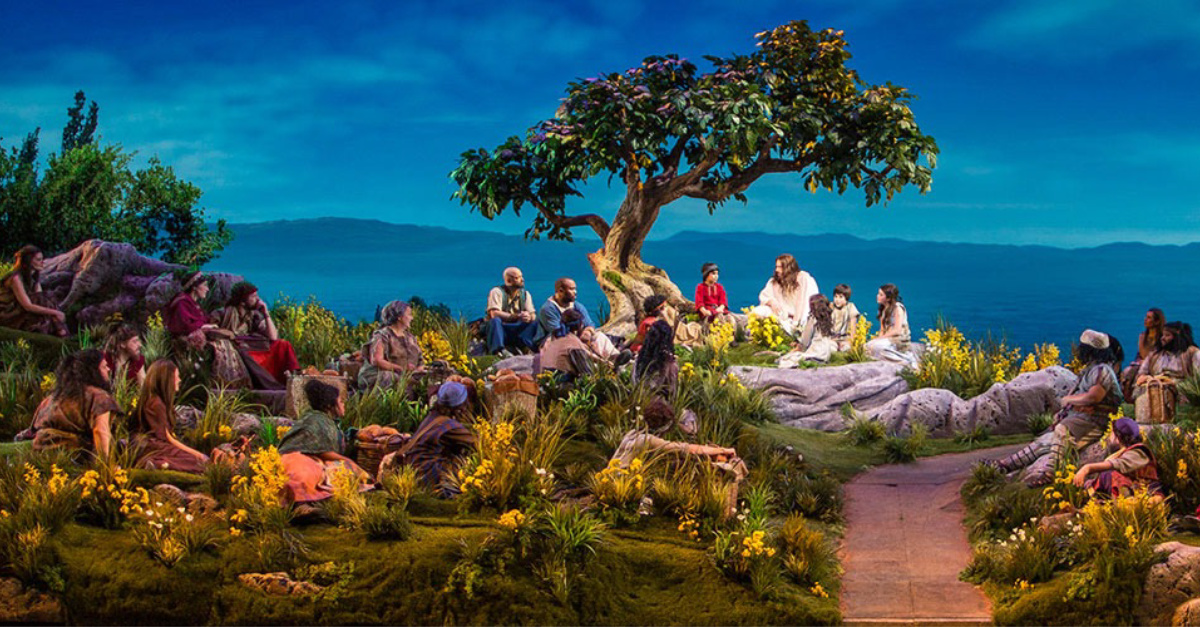 1. Sight & Sound: Jesus (2020)
Rating: Not Rated
Sight & Sound has been producing plays based on Bible stories for years (from the story of Noah to the story of Esther). Jesus is the most recent of the plays filmed and released online. Like most Sight & Sound productions, it favors big set designs, features music numbers, and takes a fun-for-the-whole-family approach. The humor is sometimes cheesy but on purpose. When Jesus talks Peter out fishing and tells him to put his nets on the other side, Peter scoffs, "You don't do a lot of fishing do you?"
Jesus replies, "No."
"What do you do?"
"Carpentry."
Musical theater fans will argue how this compares to Jesus Christ Superstar, but this movie doesn't aim to compete with more famous musicals. Nor does it try to update the story for new audiences or delve into unorthodox theories about Jesus. It tells the story straight with some grand spectacle (like a massive boat rocking in the storm before Jesus calms the weather) and intentionally silly humor. These elements make it a modern Jesus movie that the whole family can see.
Photo Credit: ©Sight & Sound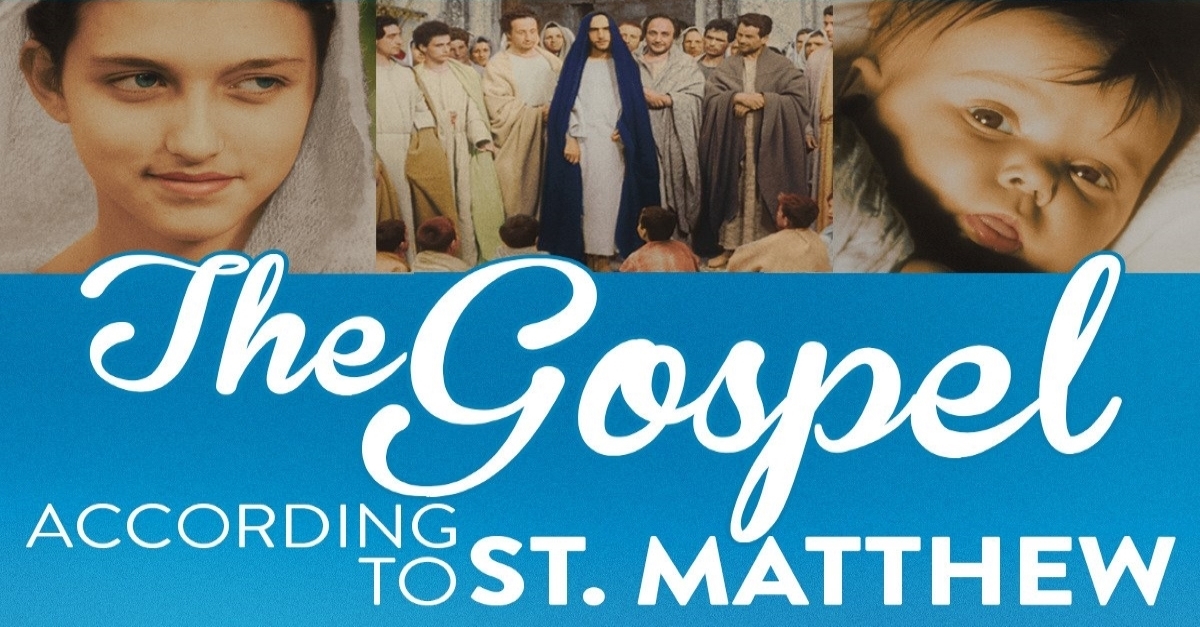 2. The Gospel According to St Matthew (1964)
Rating: Not Rated
Sometimes the best Bible movies avoid spectacle and use something unusual to make us rethink how we see the story. The Gospel According to Saint Matthew avoids big special effects and grand music or performances. In fact, it's almost designed to look like one of the disciples was capturing footage with a cheap camera as events happened—small, intimate, like a documentary or home movie. The smaller scale feel pushes viewers to focus on what Jesus is doing—which, in this movie, is primarily challenging people. Viewers see Jesus healing the sick but also cursing a fig tree. He talks in a terse voice about hypocrites and warns his followers that he is not giving them an easy task.
The movie may focus on a side of Jesus that we rarely think about, but for a good reason. The emphasis on Jesus as a challenginger reminds us that Jesus was a revolutionary. He didn't bring the political revolution people expected. Still, he did preach a way of life that upset people's standards—where the last were first, where prostitutes could enter heaven before religious leaders. The Gospel According to Saint Matthew is a deliberately low-scale film that reminds us Jesus was more than just another religious teacher. He preached something that, if true, changes everything.
Photo Credit: Arco Film Lux Compagnie, Cinématographique de France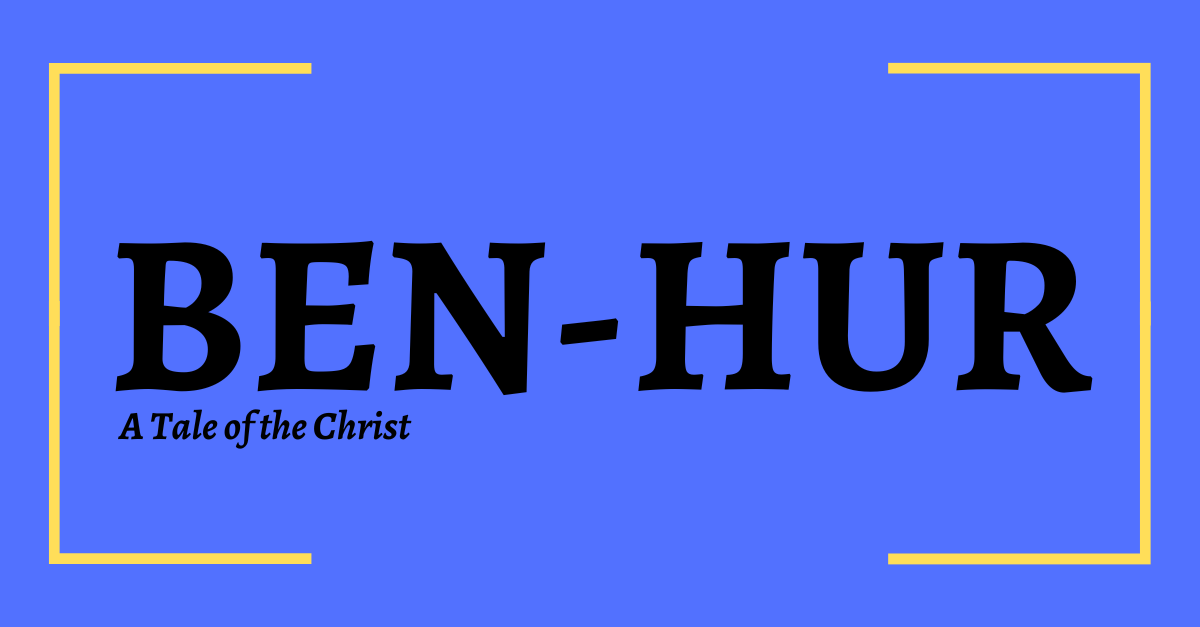 3. Ben-Hur (1925)
Rating: Not Rated
When someone mentions "Ben-Hur," most people think of the 1959 film starring Charlton Heston. While the remake is a true classic and grand fun, there are several good reasons to check out this earlier version.
For starters, it's a good way to explore biblical epics that most people forget. The 1925 Ben-Hur is a silent movie, but it's easy to watch—a great sea battle and chariot race, easy characters to understand, and a well-communicated religious message. Many silent movies told the story of Jesus, and some are still exciting and beautiful today. Some are worth checking out, especially because they set the template for what came later—you may not realize how much the very first Bible movies influenced how you think a Bible movie should look. Ben-Hur provides a great way to understand this history.
Second, this Ben-Hur shows more of the Gospel narratives than the remake. Neither movie shows Jesus' face, but the 1925 movie shows more of Jesus doing things mentioned in the New Testament—like stopping people from stoning a woman caught in adultery. Add that to the shorter time (over an hour shorter than the 1959 movie), and it's a great way to discover the classic story.
Photo Credit: graphic by G. Connor Salter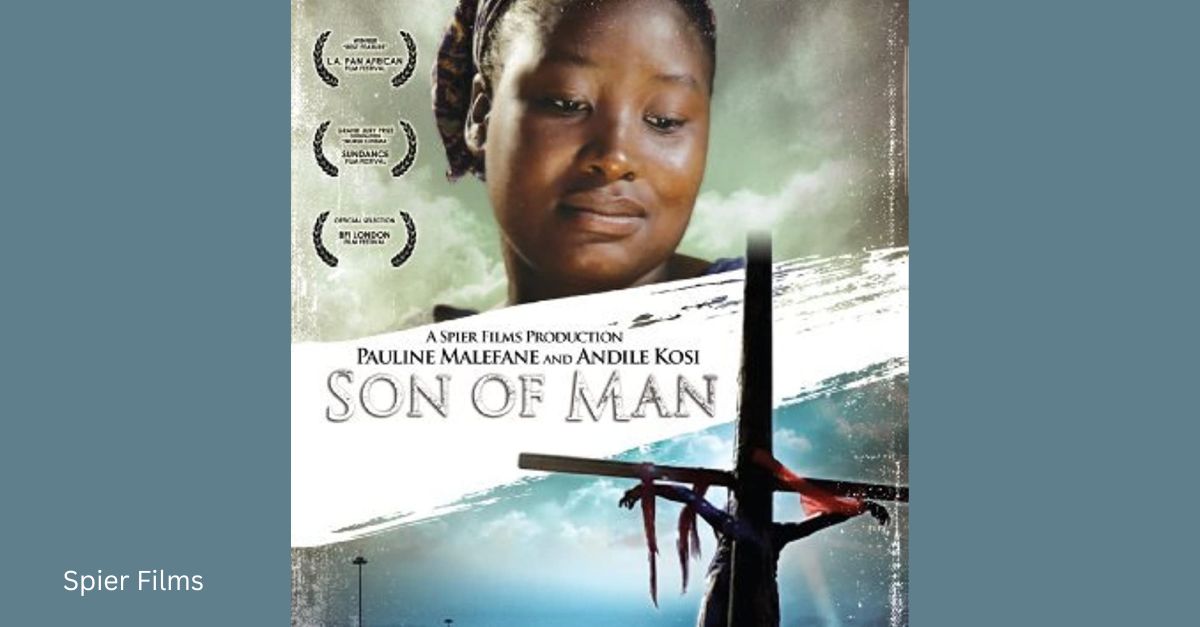 4. Son Of Man (2006)
Rating: Not Rated
Jesus called himself "the Son of Man" frequently, a name Daniel uses for a future figure who would rule the earth and pass judgment on it. This movie uses the title to remind us of something else: Jesus was God but also human and cared deeply about the humans around him.
Son of Man retells the story of Jesus using an all-African cast in a modern African setting. Jesus preaches in shanty towns, challenging local authorities to care more about their people than the status quo. When his miracles draw new crowds and negotiations with a military regime mean authorities can't afford anyone rocking the boat, they decide to take care of him.
Son of Man is just as much about contemporary Africa as Jesus—there are references to coups and conflicts with Western investors. This serves as an important challenge. If we believe in a God who encouraged us to love the least of these, how do we apply that to helping other countries—particularly those exploited in the past? It also reminds us that Jesus lived in a culture much closer to African culture than our own—one that valued close-knit communities and intergenerational history.
Photo Credit: Spier Films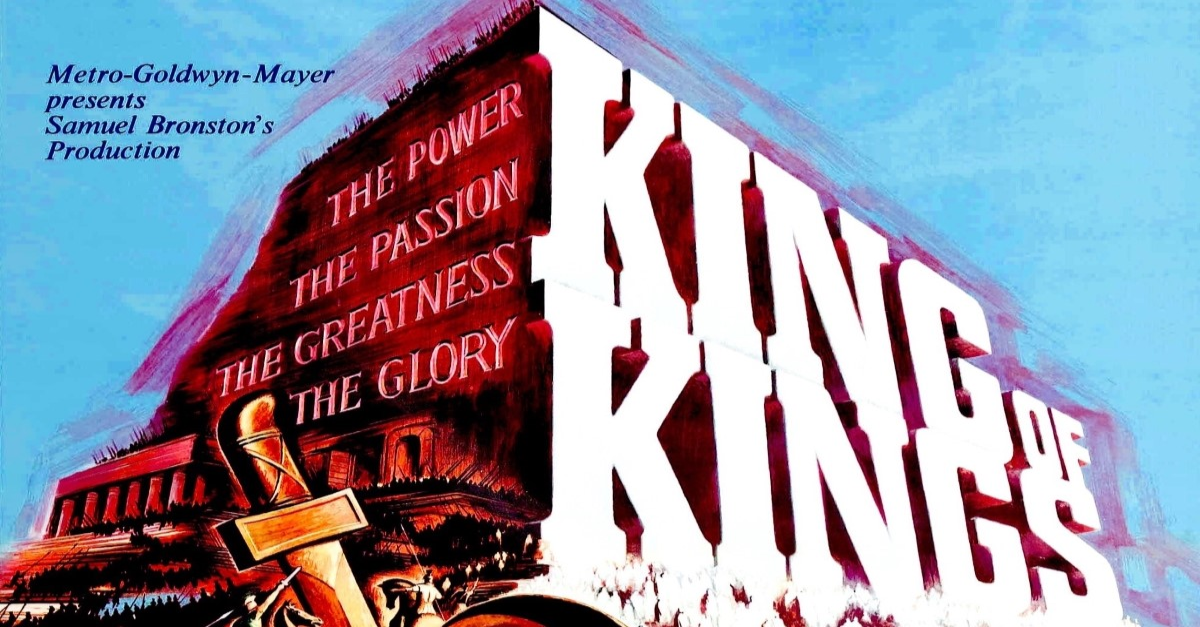 5. King of Kings (1961)
Rating: PG-13
Plenty of Bible stories (from Noah's Ark to Samson and Delilah) got adapted into biblical epics during the 1950s-1960s. Surprisingly few focused on Jesus. While The Greatest Story Ever Told is probably more famous than King of Kings, there are several good reasons to favor this movie. The Greatest Story Ever Told has good moments, but its solemn tone becomes self-important. Everybody—even John Wayne with his cowboy drawl saying, "Surely this man was the son of God"—sounds like actors told they're acting in an important story, so they better sound important.
King of Kings has a few overdone moments, but mostly its actors sound like believable characters. The script (with Herod's stepdaughter Salome dancing at a feast) makes the inevitable campy dancing girl scene—every biblical epic had at least one—seem like a natural part of the story rather than something added for shock value. It also finds an interesting way to expand Barabbas' role to highlight how Jesus was a different Messiah than the Jews expected. One of these men tried to bring freedom via a political solution, an insurrection where he killed others. The other man brought freedom by his death, a spiritual rather than political solution.
Photo Credit: Metro-Goldwyn-Mayer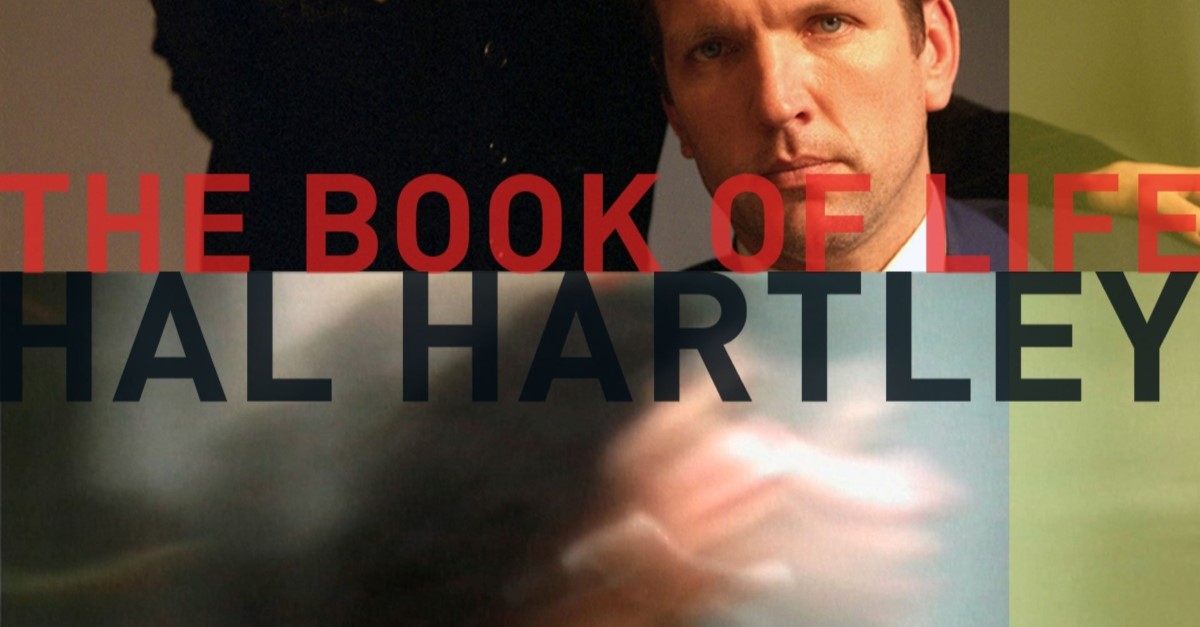 6. The Book of Life (1998)
Rating: Not Rated
Sometimes the most interesting movies about Jesus place him in fictional settings, drawing out biblical themes in new ways. The Book of Life takes this approach further than most. Part of a series where different filmmakers made movies about the millennium, it follows Jesus appearing in New York City. It's the evening of December 31, 1999. His mission is to open the seven seals, starting the final judgment. While Jesus contemplates whether he wants to open the seals at all, Satan tries to locate him. Other characters talk with Jesus about religion and what gives life meaning.
Since the movie is really using Jesus and end times imagery as a sly way to talk about the year 2000, it's no surprise that the film ends with Jesus deciding to postpone the last judgment. The Book of Life neither pretends nor tries to take the book of Revelation that seriously. However, in the middle of its quirky story and style are surprising scenes exploring orthodox Christian ideas. Jesus and the devil meet in a hotel lounge to debate their views. One views humans as valuable, something to rescue. The other can't understand why humans matter that much—but as he observes in one scene, unlike Jesus, he has never been human. There are also supporting characters who represent other biblical themes—like a stern man who represents the law and thinks Jesus' talk about mercy is soft. The story may not be biblical, but it explores important biblical themes about Jesus as God incarnate and his scandalous grace for humans.
Photo Credit: Haut et Court La Sept-Arte True Fiction Pictures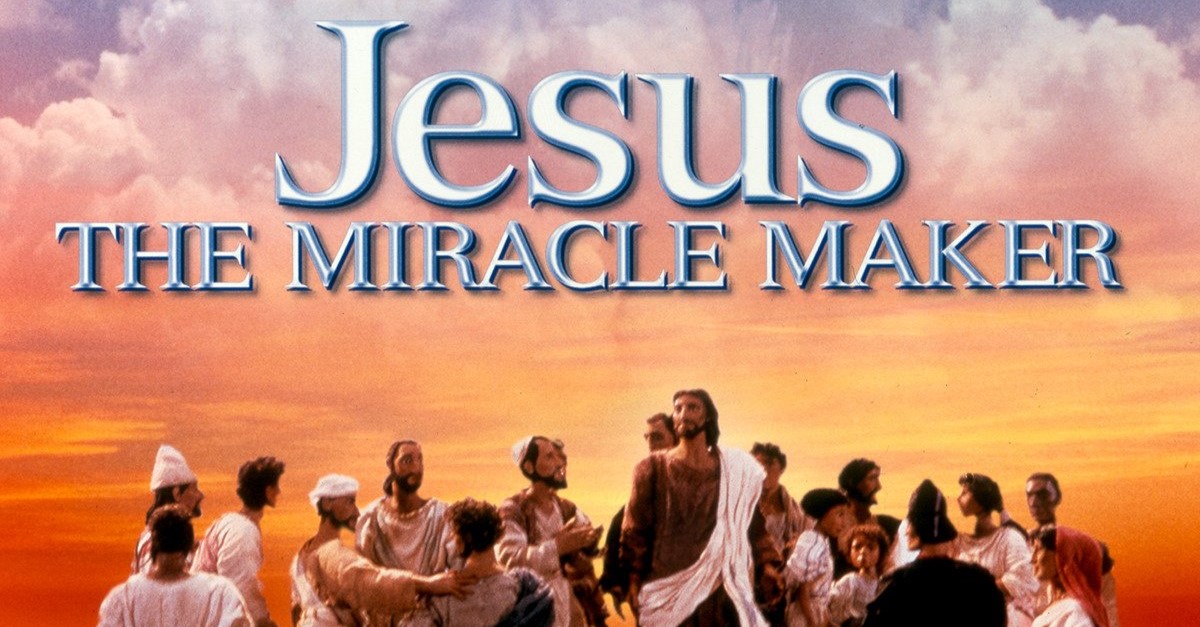 7. The Miracle Maker (2000)
Rating: G
A stop-motion movie about Jesus featuring Ralph Fiennes (best known for playing villains like Lord Voldemort) as God's son may not sound like a great movie. However, The Miracle Maker has quietly built a reputation in the last 20 years as one of the best Jesus movies available.
Partly it's that while Fiennes often plays threatening characters, his voice easily slides from intimidating to kind. That makes him a great fit for playing a man who stops to help a sick child one moment, then drives people out of a temple a few minutes later. The best Jesus performances combine kindness and power.
More than that, The Miracle Maker works because it knows its angle. Bible movie expert Matthew Page observes that every Bible movie is an interpretation—you interpret material the moment you adapt it to a new medium. So, the question with a Jesus movie is not whether you will interpret the story. It's what interpretation you will give. Too many Jesus movies rehash the famous moments without a clear vision and seem muddled. From the start (it opens with a sick child meeting Jesus), The Miracle Maker shows it will emphasize one thing: Jesus working miracles. It tells most of the story through people he healed, building up to the most shocking miracle of his ministry: when he returned from the dead. Every moment is well-handled, resulting in a well-crafted movie that succeeds where so many live-action Jesus movies stumble.
Photo Credit: British Broadcasting Corporation, British Screen Productions, Cartwn Cymru, Christmas Films, Icon Entertainment International, Sianel 4 Cymru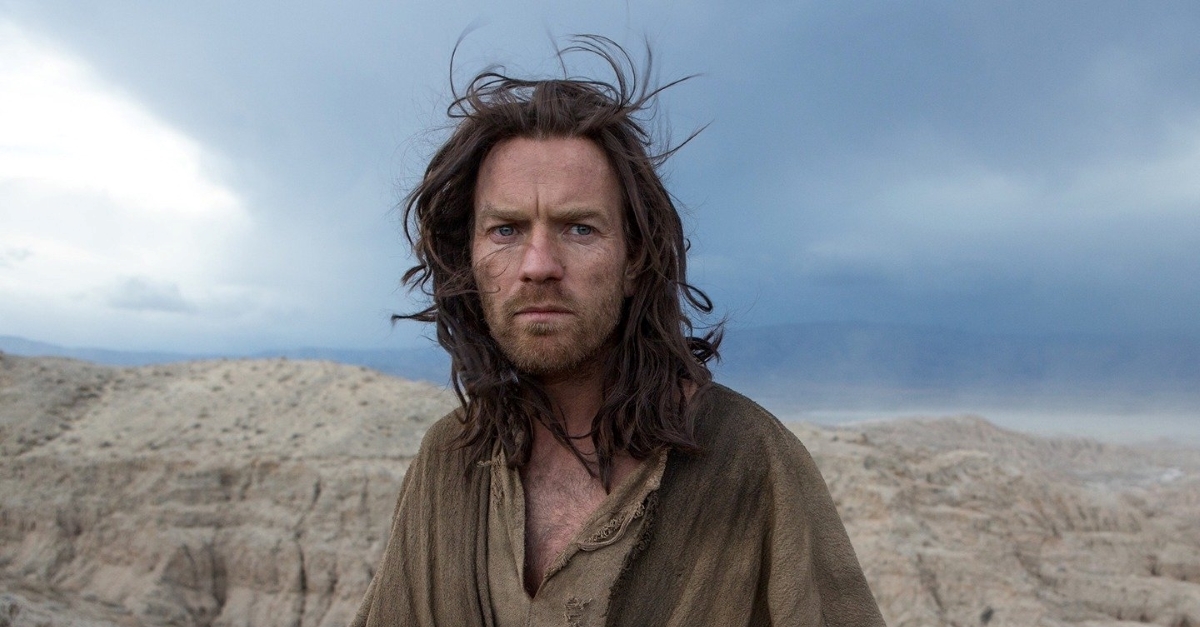 8. Last Days in the Desert (2016)
Rating: PG-13
Filmmakers have highlighted many of Jesus' traits. Some show his revolutionary side. Some show his love for the unwanted. However, there's one side of Jesus' personality that filmmakers have constantly struggled with: his humanity. He was fully God but also fully human. Some sections of the Bible (his reference to not knowing some things, his pleading in Gethsemane, and Paul saying Jesus was "tempted in every way") indicate his human side struggled on earth. Martin Scorsese tried to capture these struggles in his controversial movie The Last Temptation of Christ, with mixed success. Last Days in the Desert finds a more palatable way to consider this theme, imagining a scene between the Bible's stories of Jesus.
The movie opens with Jesus in the desert, undergoing his 40 days of fasting and temptation. The devil shows up routinely to goad him, asking whether he really believes his heavenly father knows what's best. Jesus spends time with a family living in the desert. However, this meeting doesn't bring him any rest. Watching how the father and son interact underlines the question the devil is goading him to ask—how does a son deal with his father's expectations?
Last Days in the Desert may leave viewers with more questions than answers, but that's the point: to get people thinking about who Jesus was… what it means to be a God who must submit to suffering.
Photo Credit: Broad Green Pictures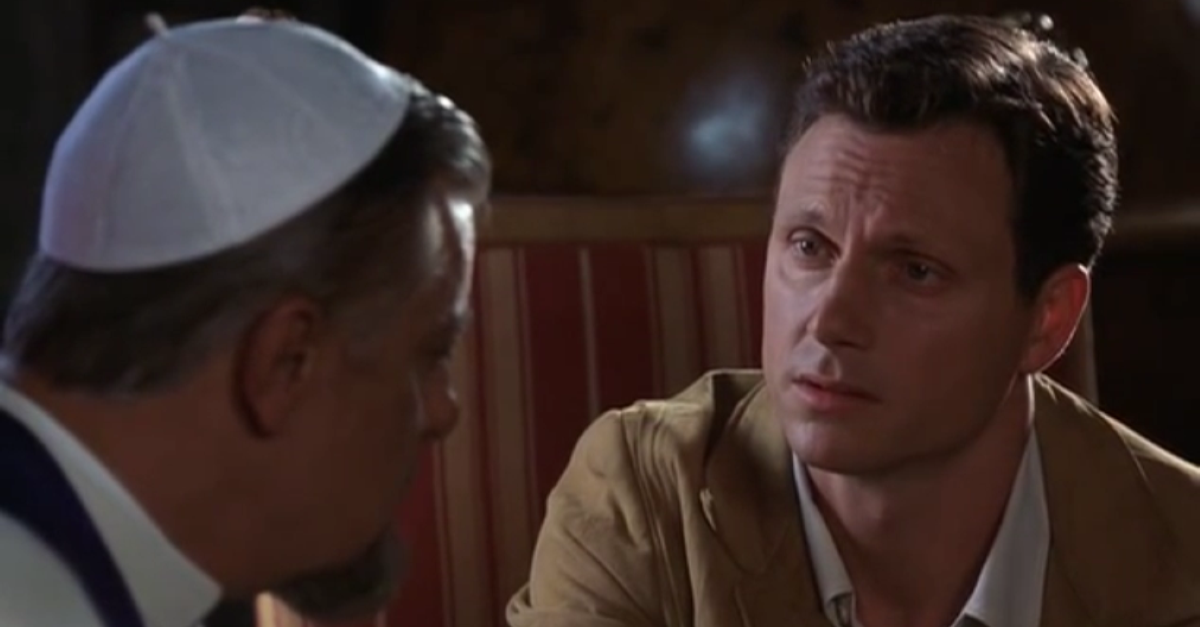 9. Joshua (2002)
Rating: G
Son of Man and The Book of Life play with the idea of Jesus appearing in a new context to make very striking and dramatic points. Joshua takes a much lower key. Based on a 1983 novel by Joseph Girzone, it starts with an intriguing idea: what if Jesus showed up today? What if he visited a small town, got a job as a carpenter, and helped rebuild a church? What if he started talking about God, claiming the most important thing is not getting every rule right but learning how much God loves us? Not everyone Joshua meets agrees with his views… especially when he starts working miracles.
The concept that Christianity should be founded in falling in love with God, which may lead us to be "more spiritual than religious," feels much less shocking today. Even when Joshua came out, the idea of conservative priests being upset by someone talking about God's love (and suggesting that a church can use rock music for worship) was becoming dated. However, Joshua still does a better job than many movies of imagining Jesus appearing in our world today. Newer movies like The Encounter have played with similar ideas, but few have this movie's believable acting and direction. A great introduction to considering what Jesus wanted us to be—people who love God and others well, or people who love rules?
Photo Credit: Crusader Entertainment, Epiphany Films LLC, Feelmax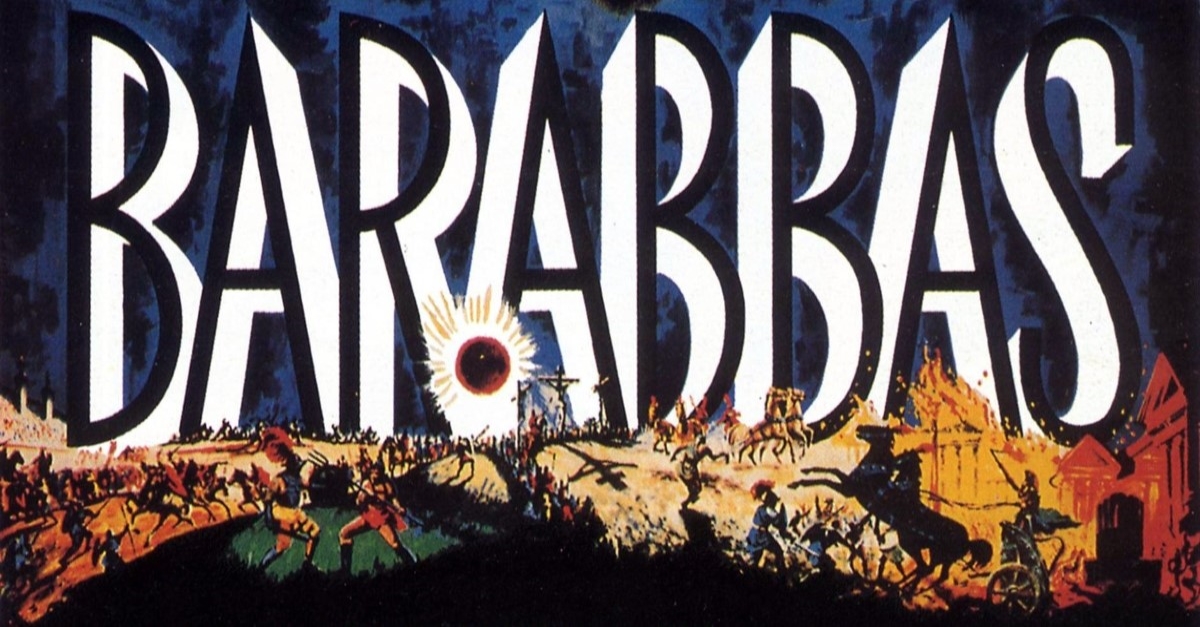 10 Barabbas (1961)
Rating: Not Rated
Classic biblical epics tended to be about two things: Bible stories or stories about bystanders experiencing Bible stories. When most people think of the second category, they remember Ben-Hur and The Robe—two movies about people meeting Jesus and experiencing Easter weekend from a side view. Barabbas is less well-known but has aged better than The Robe. It also does a much better job of depicting a man far from God who's unsettled when Jesus enters his life.
When Barabbas learns he's not going to be crucified, he doesn't much care how he got off. However, a brief meeting with Jesus as he leaves prison and a friend guiding him to Jesus' empty tomb a few days later forces Barabbas to rethink what's happening. Did Jesus die for him? If so, what is next? Barabbas grapples with these questions, unsure what to think or whether he wants to surrender his life to anyone. He proceeds on several adventures, undergoing things that should kill him, but somehow he survives… as if someone is keeping him alive, giving him another chance.
Photo Credit: Columbia Pictures
Further Reading:
10 Easter Movies about the Life of Jesus
10 Movies to Watch During Lent
Top 10 Bible TV Shows of All Time
Cover Photo Credit: ©GettyImages/ginosphotos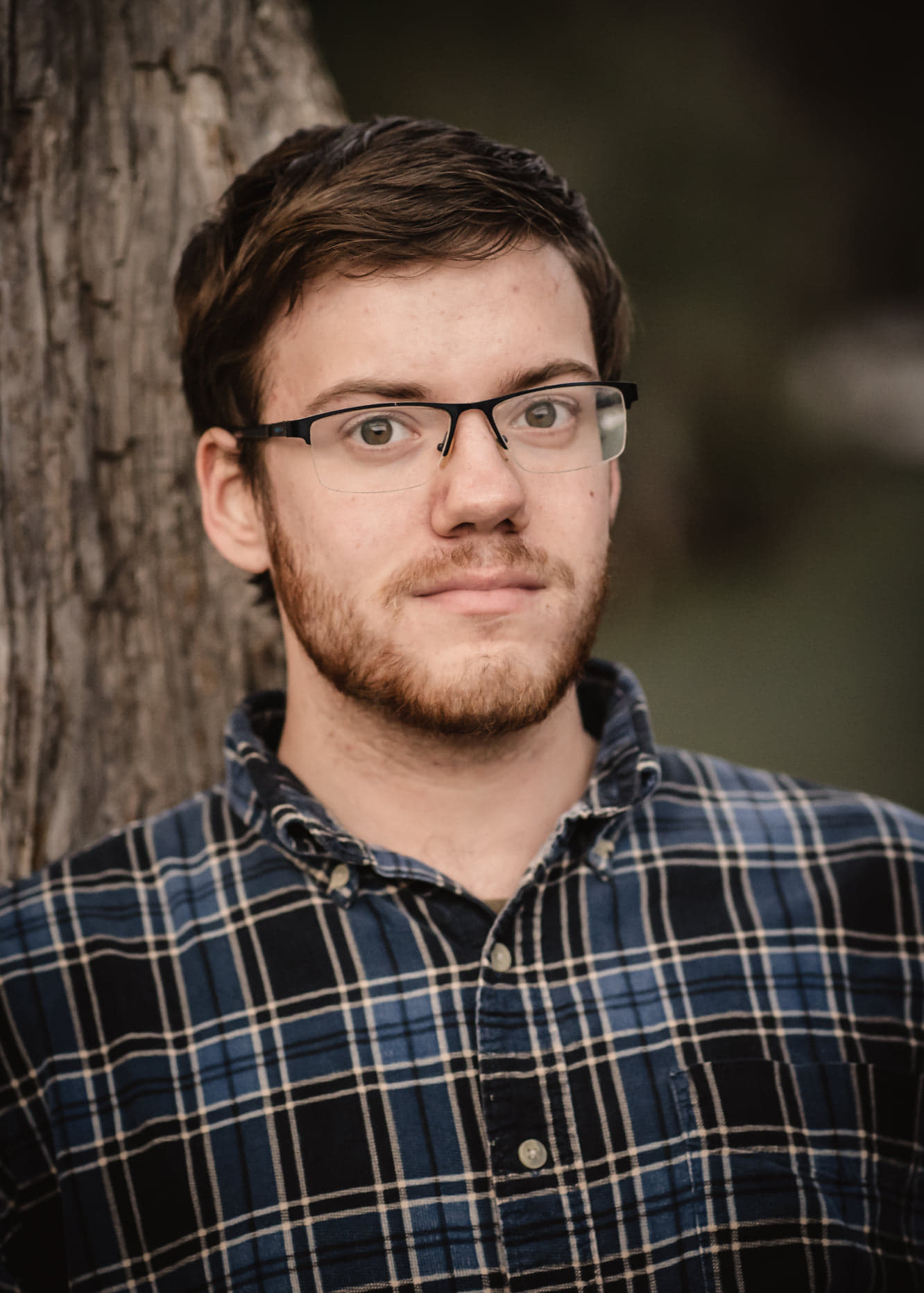 G. Connor Salter is a writer and editor, with a Bachelor of Science in Professional Writing from Taylor University. In 2020, he won First Prize for Best Feature Story in a regional contest by the Colorado Press Association Network. He has contributed over 1,200 articles to various publications, including interviews for Christian Communicator and book reviews for The Evangelical Church Library Association. Find out more about his work here.
---
This article is part of our larger Holy Week and Easter resource library centered around the events leading up to the death and resurrection of Jesus Christ. We hope these articles help you understand the meaning and story behind important Christian holidays and dates and encourage you as you take time to reflect on all that God has done for us through his son Jesus Christ!
What Lent and Why is it Celebrated?
What is the Holy Week?
What Is Palm Sunday?
What is Maundy Thursday?
What Is Good Friday?
What Is Easter?
Easter Prayers
At Easter, the Son of God took on the world's sin and defeated the devil, death, and the grave. How is it that history's most glorious moment is surrounded by fearful fishermen, despised tax collectors, marginalized women, feeble politicians, and traitorous friends?
Related podcast:
The views and opinions expressed in this podcast are those of the speakers and do not necessarily reflect the views or positions of Salem Web Network and Salem Media Group.
Related video:
Christ's resurrection is extremely powerful. Through Jesus' resurrection, we are taught many powerful lessons. While in actuality, one could write an entire book on lessons from Christ's resurrection, today we will discuss four of the most powerful lessons from Jesus' resurrection. If you want to learn more about the resurrection and its power, this article is for you: 4 Powerful Lessons from Christ's Resurrection
Stock Footage & Music Soundstripe.com, Getty Images