4 MLK Quotes That Just Mercy Demonstrates Perfectly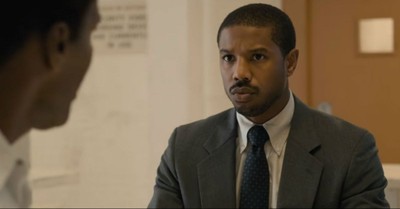 By Kelly-Jayne McGlynn, Crosswalk.com
Editor's Note: Throughout June 2020, Just Mercy is available to stream for FREE from home on several platforms, including Amazon Prime Video, Vudu, and Google Play.
Based on the #1 New York Bestseller by the same name, Just Mercy tells the story of lawyer Bryan Stevenson as he takes on the case of a man on death row who he believes was wrongfully convicted on account of his race.
Played by Michael B. Jordan, Stevenson is a black Harvard Law graduate who is dedicated to doing everything he can to help less fortunate clients who have been condemned to death. He creates the Equal Justice Initiative (EJI), and along with fiery operations director Eva Ansley (Brie Larson), takes on cases in racially divided Alabama in the late '80s.
One of Stevenson's condemned clients is Walter "Johnny D." McMillian (Jamie Foxx), a man who was convicted of murdering a young teenage white woman, even though he was nowhere near the scene of the crime.
After realizing how flimsy the evidence used in the trial again McMillian was, Stevenson and Ansley pour their heart into blowing the case wide open, getting McMillian's charges dropped, and sending an innocent man back to his family.
Though they face incredible judgement, humiliation, and even death threats, they do not back down from pursuing what is right. Moving, relevant, and thought-provoking, Just Mercy is a beautiful example of what Martin Luther King Jr. stood for: fighting for love, compassion, and justice for all.
Here are 4 famous quotes by Martin Luther King Jr. that Just Mercy lives out in stunning conviction.
1. "The ultimate measure of a man is not where he stands in moments of comfort and convenience, but where he stands at times of challenge and controversy."
—Strength to Love, 1963
Martin Luther King Jr. proved time and again that it was the heart and integrity of a man that he was concerned with—which is exposed the most in the toughest times.
One of the early scenes in the movie shows Stevenson, fresh out of law school, talking to his mom on their porch about how upset she is that he is pursuing this line of work. People would hate him for what he was doing, and history had shown that hate is especially unkind to black men. She doesn't understand why he would put himself in danger for people he doesn't know.
As a Harvard graduate, Stevenson certainly could have had a cushy 9-5 job, making lots of money off people who have lots of money to give. Instead, he stepped into one of the most racist parts of the country to defend the lowly and the damned.
He ran towards the problem; not away from it.
He reminds his mom "You always taught me to fight for the people who need the help the most.
2. "For when people get caught up with that which is right and they are willing to sacrifice for it, there is no stopping point short of victory."
—Letter from Birmingham Jail, 1963
It wasn't just reputation that Stevenson and Ansley sacrificed for what is right. They pulled all-nighters looking at case notes, trying to find any information at all that could help McMillian and his other clients. Stevenson was "married to his work" rather than finding time for personal relationships.
Ansley and Stevenson joke about how little he is able to pay her.
Further, one night, Ansley received an insidious call from someone in her community, telling her they had placed a bomb under her house, endangering not only herself and Stevenson, but Ansley's husband and son as well.
Although given the option after that to back out of working for the EJI, Ansley says she would rather her son remember her for standing up for what is right, rather than backing down because some bigot made her scared.
We know that MLK made the ultimate sacrifice for what he believed in, and truly lived out this conviction.
3. "We must accept finite disappointment, but never lose infinite hope."
— In My Own Words,

1968
One of the most inspiring characteristics of MLK was his ability to hold onto hope in Jesus, against all odds. In Just Mercy, hope was an incredibly important vehicle for change.
Without hope of something better, Stevenson would have given up these men as condemned, and would have never pursued helping them. Without hope, Stevenson would have given up his cause after failing one of his clients, watching his brutal death by electrocution.
Without hope, after the circuit court denied their motion to reopen McMillian's trial, Stevenson would never have gone to the state Supreme Court.
One day, while looking around at the members of a church congregation during a worship song, Stevenson renews his sense of hope, and keeps going to pursue what is right.
4. "Hate begets hate; violence begets violence; toughness begets a greater toughness. We must meet the forces of hate with the power of love."
—1958
Perhaps what MLK is best known for is his commitment to non-violent activism. He did not just tell his followers to react in love rather than hate, he demonstrated this conviction in all he did.
Stevenson underwent many opportunities to react back in hatred. In one scene, a prison security guard humiliates Stevenson by making him strip naked, when this is never protocol for attorneys visiting clients in prison.
And one night while driving home, Stevenson was pulled over by the police for no reason. When he politely asked what he was being pulled over for, the officer immediately put his gun to Stevenson's head and forced him out of the vehicle. But Stevenson never retaliated.
He just continued to focus on what was most important: justice for his clients.
One of the most memorable quotes from the movie comes from Stevenson as he talks to the Supreme Court about his beliefs about capital punishment, which is a quote from the real-life Stevenson himself: "We all need mercy, we all need justice, and-perhaps--we all need some measure of unmerited grace."
Not only would Martin Luther King Jr. agree, but our Savior Jesus Christ would as well.
To learn more, visit Just Mercy's Twitter page, or see this film at a theater near you.
Rated PG13 for thematic content including some racial epithets (and violence, brief implied nudity, and language).
---
Kelly-Jayne McGlynn is the Family Editor for Crosswalk.com. She loves being able to combine her love for God with her love of writing, and highly enjoys being at a job where the debate over the Oxford Comma actually matters.
Photo Courtesy: Warner Bros. Pictures.
Kelly-Jayne McGlynn is a former editor at Crosswalk.com. She sees the act of expression, whether through writing or art, as a way to co-create with God and experience him deeper. Check out her handmade earrings on Instagram and her website for more of her thoughts on connecting with God through creative endeavors.
Related podcast:
The views and opinions expressed in this podcast are those of the speakers and do not necessarily reflect the views or positions of Salem Web Network and Salem Media Group.