4 Things Parents Should Know about Clifford the Big Red Dog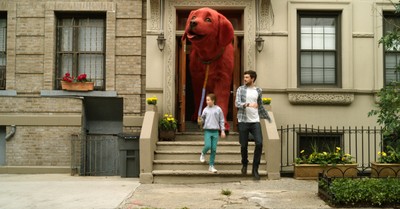 By Michael Foust, Crosswalk.com
Emily Elizabeth is a charming and talented young girl who is living through every child's nightmare: She's trying to survive on her own in fourth grade at a new school.
So far, though, it's not going well. The popular girls pick on her. She has few friends. And even when she completes a class project – such as collecting aluminum cans for a fundraiser – the other kids laugh. (Their wealthy parents wrote checks to fulfill the assignment.)
But then Emily Elizabeth finds the friend she desires. It's a puppy – a red puppy, mind you – but it does what dogs always do: It loves its owner unconditionally.
"How big is he gonna get?" she asks the previous owner, a man named "Bridwell."
"Well, that depends … on how much you love him," the man says.
The new film Clifford the Big Red Dog tells the classic story of Emily Elizabeth and her dog, who quickly grows to be a giant canine nearly as big as a house due to her love and care. It stars Darby Camp (The Christmas Chronicles series, Benji) in the lead role.
Here are four things parents should know:
Photo courtesy: ©Paramount Pictures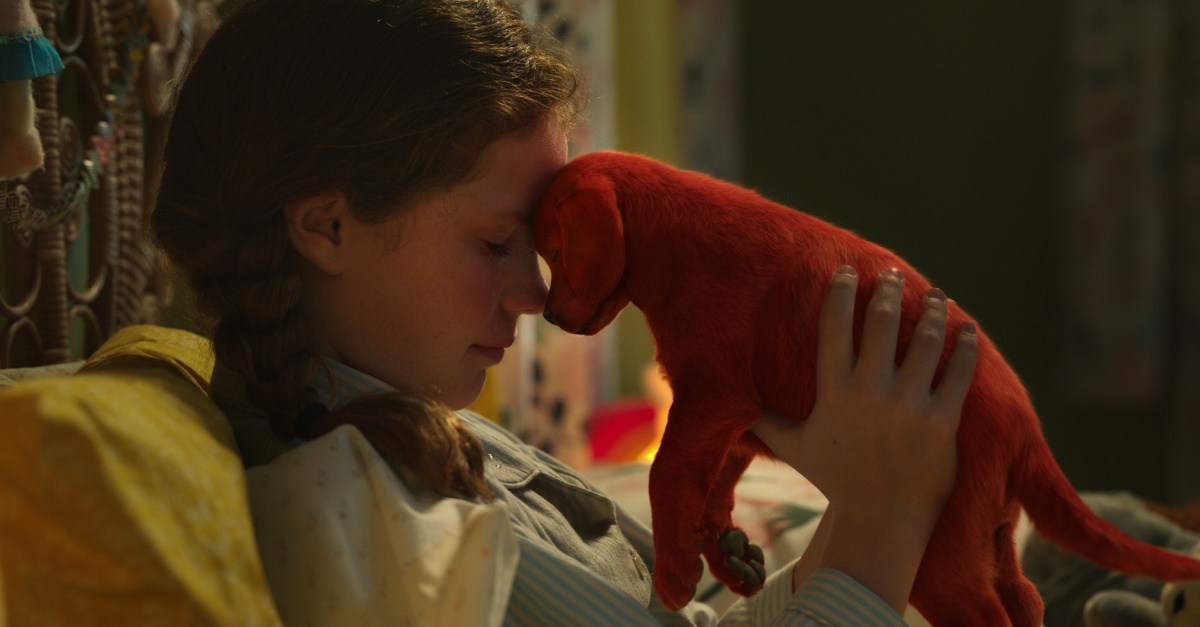 1. It's Based on a Classic Book and Popular Show
My children grew up reading stories about Clifford, but in case you're new to the plot, here's the background: The film is based on a series of books of the same name by author Norman Bridwell, who wrote more than 100 books about a red dog who grew from normal size to giant size because his owner, Emily Elizabeth, loved him so much. Bridwell based the canine character on a dog he wanted as a little boy. The owner, Emily Elizabeth, was also the name of Bridwell's daughter. The first book, titled simply Clifford the Big Red Dog, was released in 1963.
The book series led to multiple television series, including Clifford the Big Red Dog (2000–03) and Clifford's Puppy Days(2003–06), both of which aired on PBS. In 2019 Amazon launched a reboot, also called Clifford the Big Red Dog.
Clifford is the mascot for Scholastic, which publishes the books.
Photo courtesy: ©Paramount Pictures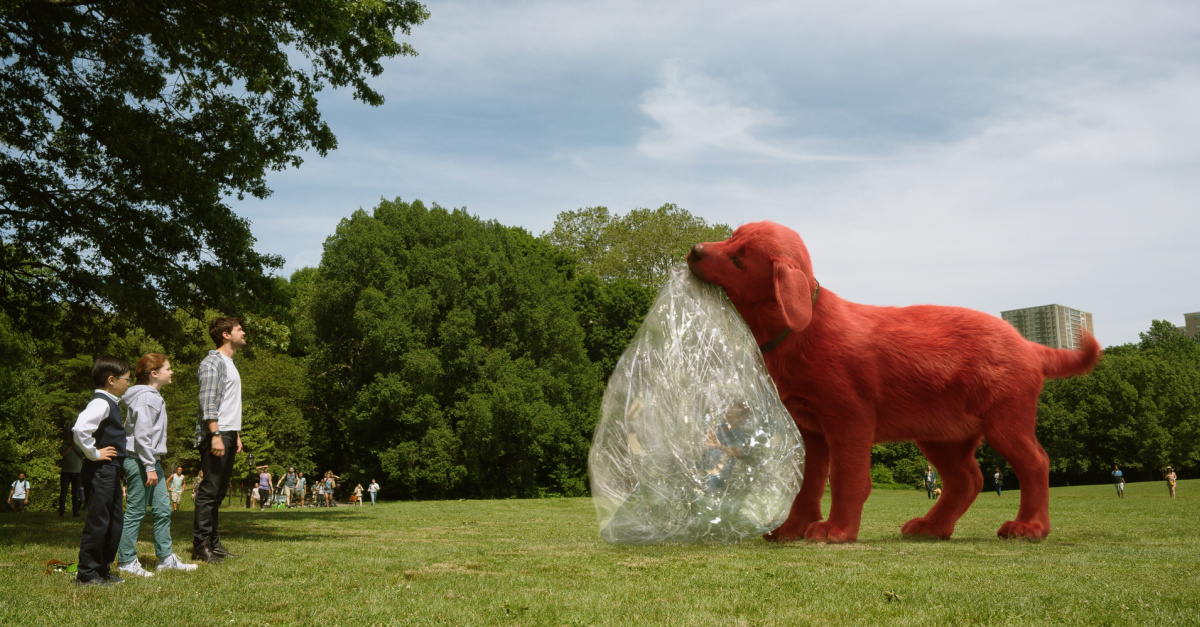 2. It's a Mixture of Animation and Real Life
The film places a CGI-animated version of Clifford in the real world – specifically, New York City – and, for the most part, it works. Like the books, Clifford roams freely through the neighborhood (although, understandably, citizens are bewildered). Like the books, the carefree and playful Clifford makes plenty of messes. And like the books, Emily and Clifford have a special bond.
The film isn't as charming or as witty as the best-in-this-genre Paddington movies, but it's nevertheless fun for children – especially for fans of the books.
"We wanted Clifford to feel absolutely real, from an emotional standpoint, from a comedic standpoint," producer Jordan Kerner told Screen Rant Plus. "... With the Bridwell books, he ranged from eight feet to about 35 feet. Our Clifford is between 10 and 12 feet."
The movie has a few minor differences from the books. Emily Elizabeth is a little older (she's in middle school). She now lives in Manhattan, not Bridwell Island. In the film, she's being babysat by her irresponsible uncle while her mother takes a business trip cross-country.
Still, the core of the plot remains: Clifford grows big because of Emily Elizabeth's love (although it happens overnight).
So, why was Clifford born with red fur? It's a mystery. ("I don't know," Bridwell says in the film when asked.)
Photo courtesy: ©Paramount Pictures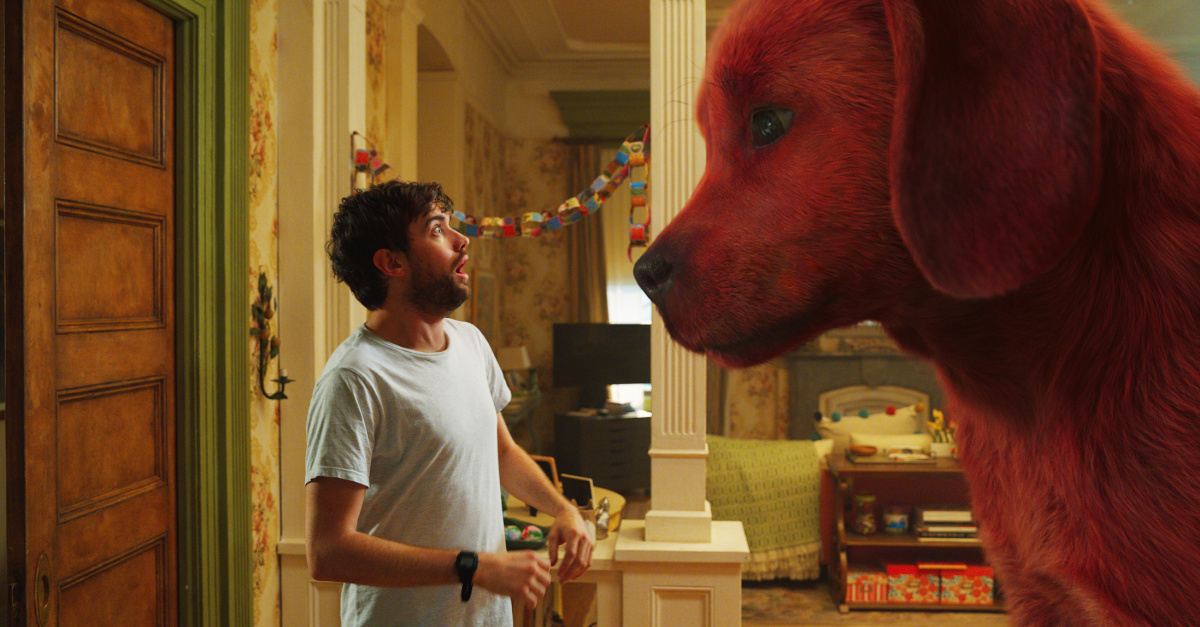 3. It Has a Message about Love and Distinctiveness
The film draws a parallel between Emily Elizabeth, who is bullied by girls at school, and Clifford, who is targeted by an evil corporation because of his size. (The company is trying to learn how to grow giant food through genetic engineering.) Both are picked on because they act and look different. But as the movie tells us, unique people are the "ones that change the world."
During one turning point in the film, Emily Elizabeth tells city officials that Clifford is not "dangerous" – he's just "different."
"I know how he feels because I know what it's like to not fit in," she says. "Just because you're different, it doesn't mean that it's okay to be teased or bullied."
That's a message every family can support.
Photo courtesy: ©Paramount Pictures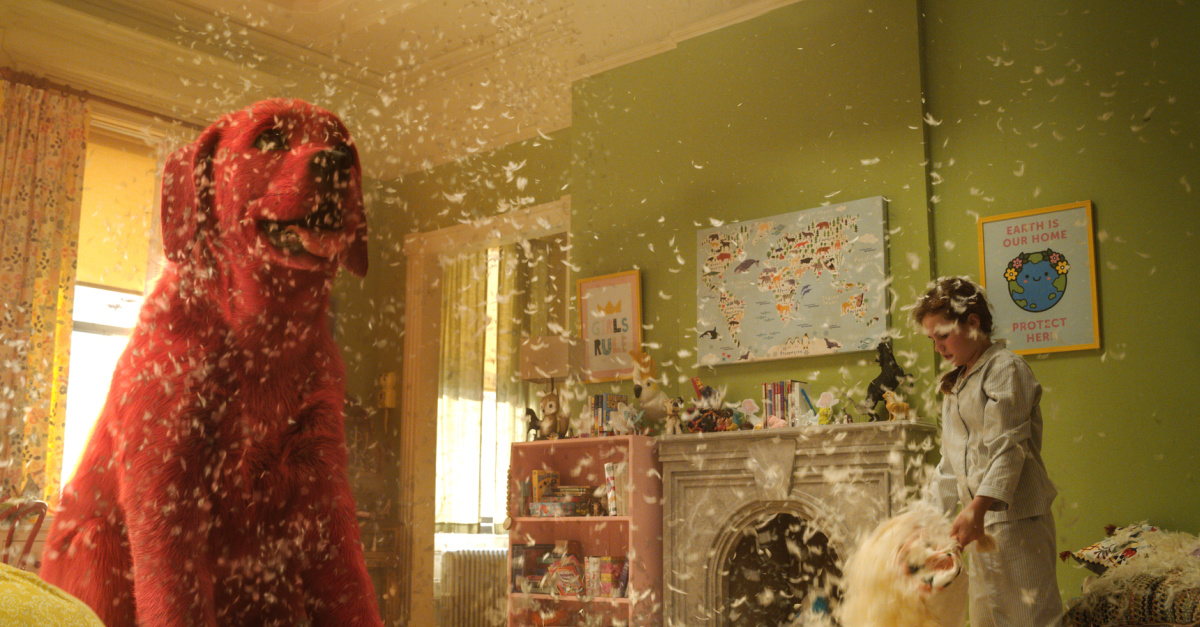 4. It's PG … and Family-Friendly
Clifford the Big Red Dog has a few edgy moments, but it stays firmly within PG territory. It contains little to no coarse language (details below), no violence, and only one or two jokes that may trouble some families. (What sound do porcupines make when they mate? "Ouch.") It also has a fair amount of potty humor, including a small dog being lifted up to Clifford's rear end so the other dog can smell it. We also see a large stream of water that (we assume) is Clifford's urine. Perhaps the most problematic moment occurs when Emily Elizabeth and her uncle lie to her mom on the phone, falsely saying they are walking to the subway and heading to school (they're not).
Clifford the Big Red Dog isn't the best family-friendly of the year, but for parents looking for a clean film with a few good lessons, it's worth watching.
Rated PG for impolite humor, thematic elements and mild action. Language details: bloody (1), gosh (4), sucks (1), literal "OMG" (1), misuse of "God" (1), OMG (1), an unfinished "what the" (1), butt (2), holy sheep (1), unfinished "kiss my" (1).
Entertainment rating: 3.5 out of 5 stars.
Family-friendly rating: 4 out of 5 stars.
Photo courtesy: ©Paramount Pictures
---
Michael Foust has covered the intersection of faith and news for 20 years. His stories have appeared in Baptist Press, Christianity Today, The Christian Post, the Leaf-Chronicle, the Toronto Star and the Knoxville News-Sentinel.
Related podcast:
The views and opinions expressed in this podcast are those of the speakers and do not necessarily reflect the views or positions of Salem Web Network and Salem Media Group.