4 Things Parents Should Know about Minions: The Rise of Gru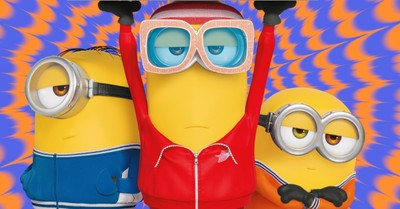 By Michael Foust, Crosswalk.com
Gru is an unusual 11-year-old boy with odd interests and awkward goals.
His classmates want to be teachers and firefighters when they grow up. Gru, though, has different goals.
"I want to be a super-villain," Gru tells his teacher.
In today's world, that would spark a trip to the principal's office followed by a long talk with the school counselor. Unfortunately for Gru, he's living in a different era: 1976.
During class, he draws pictures of his favorite super-villains: the "Vicious 6." At home, he stares at their poster on his bedroom wall, dreaming of joining their ranks. As for hobbies, Gru does what any future super-villain would do: He steals ice cream. He sneaks into theaters (to watch Jaws). He cheats at the arcade.
And then Gru gets his big break: The Vicious 6 needs a replacement for one of its members – and it wants Gru to interview for the job. Sure, Gru is only a kid – but he's also driven. And talented. And smart.
Will the Vicious 6 let Gru into its elite group?
The new film Minions: The Rise of Gru (PG) tells the story of Gru and the Vicious 6. It stars the voice talents of Steve Carell as Gru, Julie Andrews as his mom, Taraji P. Henson as the villain known as Belle Bottom, and Alan Arkin as Wild Knuckles, another villain.
Here are four things parents should know:
Photo courtesy: ©Universal
1. It's the Backstory to Despicable Me
In case you're late to the party, Rise of Gru is the backstory to the Despicable Me franchise, which began with 2010's Despicable Me and told the story of a middle-aged man named Gru who adopts three small girls in a ploy to become the world's greatest villain – only to see his hard heart softened and transformed by their love. By the end of that film, he's a reluctant good guy. In 2013's Despicable Me 2, Gru falls in love with an agent, Lucy Wilde (they marry), and in 2017's Despicable Me 3, Gru teams up with his long-lost brother for a secret mission.
In Rise of Gru, we learn how an 11-year-old Gru met the minions. We learn how he met his scientist cohort, Dr. Nefario. Alas, we don't learn much about why Gru turned to a life of villainy, although the previous films hinted at an answer (he was bullied).
2. It's Villains vs. Villains
Rise of Gru is a little like the first Despicable Me – but without the uplifting finale. (More on that below.) In Rise of Gru, it's villains vs. villains. It begins when the Vicious 6 and their leader Belle Bottom reject Gru, telling him he's too young for the job and needs more experience.
"Come back when you've done something to impress me," Belle Bottom says.
Gru wastes no time getting their attention by stealing their much-coveted Zodiac Stone – which has supernatural powers – and speeding away from their secluded hideaway (which was hidden under a store named Criminal Records).
Although Gru makes it safely back to his house, he loses the Zodiac Stone in the process. (You can blame a minion for that.) The plot takes a turn when Wild Knuckles kidnaps Gru and demands that the minions find the Zodiac Stone. (Wild Knuckles even threatens to harm him.) Of course, Belle Bottom and her Vicious 6 partners are searching for the Zodiac Stone, too – and destroying nearly everything in their path.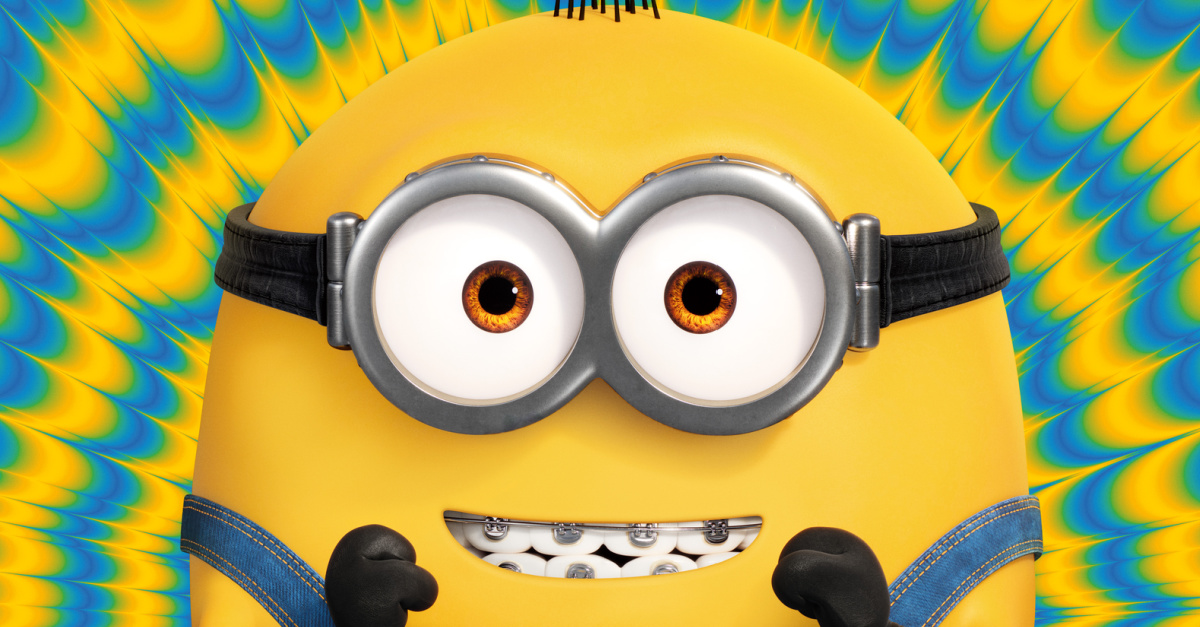 3. It's All About the 70s
For children and fans of the 1970s, Rise of Gru is, well, funky.
A billboard in the opening scene tells us it's 1976 – the bicentennial birthday of the United States. Gru watches the 1970s classic Jaws (which, indeed, enjoyed a 1976 theatrical re-release after becoming the top-grossing film of 1975). He is given a pet rock (which was one of the weirdest toy fads of the decade). His interview invitation arrives on an eight-track tape. (If you're new to that one, then Google it – it's too hard to explain). He even makes a phone call on a rotary phone (hilariously, a bird dozes off during the lengthy process).
Then there are the clothing styles. Like big hair. And big collars. And bell bottoms. (My 10-year-old son whispered innocently to me, "What's up with those pants?")
Rise of Gru has plenty of 1970s music, too: Linda Ronstadt's You're No Good is a major part of the plot. We also hear Funkytown, Dance to the Music and Born to Be Alive, among others. Many of the songs are covers, but that's OK.
The film rides the 1970s wave from beginning to end.
4. It's Hilarious … but not Redemptive
Rise of Gru is the first chapter in a redemptive film series about a villain-turned-good guy. Thus, you won't get any major positive lessons in this one, even if there are a few. (The minions display impressive selflessness and self-sacrifice by trying to save Gru after he had fired them. Gru, for his part, ends the film with a decent speech about the importance of friends and "never ever" letting go of them – although he also references the "terrible things that I'm going to do" in the future.) The film contains no coarse language (we hear "heck"), no sexuality (although we do see the posteriors of Gru and the minions), and mostly only Looney Tunes-style violence.
(Knuckles ties Gru to a massive disco turntable and threatens to slice him with a giant, slow-moving saw.)
The film's final 20 minutes might frighten sensitive children, as we watch the Vicious 6 turn into skyscraper-sized monsters (among them: a giant snake and a dragon). The plot also touches on the supernatural with its employment of the Zodiac Stone and Eastern mysticism. (The three Despicable Me films included crazy gadgets but – for the most part – not the supernatural.) It's also worth noting that one of the villains is a nun in disguise (she wears a cross that doubles as nunchucks).
The minions and their crazy antics, though, are the star of Rise of Gru. We watch them fly an airplane. (During one brief moment, the passengers experience weightlessness.) We see them learn karate (their lack of patience tests the teacher's patience). We even see one of them jump a canyon on a Big Wheel.
Rise of Gru doesn't tug at your heart like the Despicable Me series. But it's still hilarious and fun.
Rated PG for some action/violence and rude humor.
Entertainment rating; 4 out of 5 stars.
Family-friendly rating: 4 out of 5 stars.
Photo courtesy: ©Universal
---
Michael Foust has covered the intersection of faith and news for 20 years. His stories have appeared in Baptist Press, Christianity Today, The Christian Post, the Leaf-Chronicle, the Toronto Star and the Knoxville News-Sentinel.
Related podcast:
The views and opinions expressed in this podcast are those of the speakers and do not necessarily reflect the views or positions of Salem Web Network and Salem Media Group.