4 Things to Know about Redeeming Love, the Movie Based on Francine Rivers' Popular Novel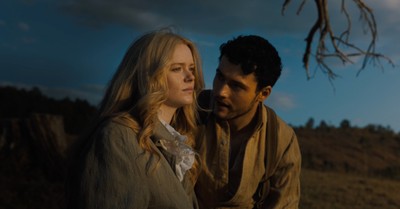 By Michael Foust, Crosswalk.com
Michael Hosea is a 26-year-old hard-working man who owns a picturesque farm near a small wooden cottage in 1850s California.
He's also lonely and single – and he prays often that God will bring him a wife.
Michael's prayers seem to come true one day when he spots a woman walking slowly through the town of Paradise. She's the most beautiful woman he's ever seen.
"Who is she?" Michael asks a townsperson. "I have to meet her."
"You'll have to get in line," the townspersons says.
"She's a prostitute?" Michael asks.
"Uh-huh."
The shocking news, though, doesn't deter Michael, who believes God has revealed his future wife to him. Her name is Angel, and nothing – not even a life of sexual slavery – will stop him from loving her.
Michael pays the required brothel fee to meet her, but he makes it clear he doesn't want sex. He wants to rescue her – and to marry her.
Angel, though, wants nothing to do with Michael.
"You just wasted your time," she says.
What will Michael do now?
The new movie Redeeming Love (PG-13) tells the remarkable story of Michael's incredible pursuit of Angel, who repeatedly rejects the idea of a better life.
Here are four things you should know:
Photo courtesy: ©Pinnacle Peak, used with permission.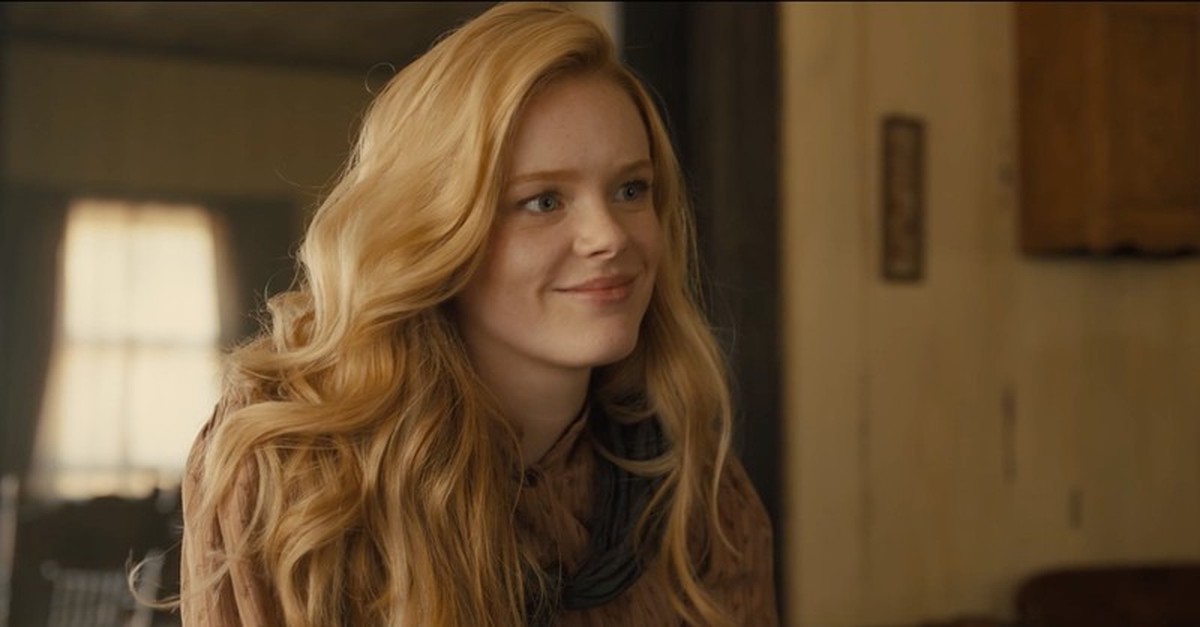 1. It's Based on a Best-Seller … and Inspired by Scripture
You likely already know that Redeeming Love is based on a best-selling novel by Francine Rivers that itself was inspired by the biblical book of Hosea. The novel, first released in 1991, has sold more than 3 million copies and been published in 30-plus languages.
Like the movie, the novel is set during the 1850s California Gold Rush.
Rivers told Crosswalk she got the idea for Redeeming Love during a Bible study. Previously, Rivers wrote secular romance books.
"When we came to Hosea, it just broke me apart. It really got through to me. ... I just felt like God was saying, 'This is the story I want you to write.'"
Rivers said it was as if God was saying to her, "You thought that was love – the steamy historical, romance-type love. But this is the real thing."
"And literally that year, I felt like He was sitting in the room with me and telling me Angel's story," Rivers told Crosswalk.
Rivers often drew inspiration from a tragic photograph of a young girl she found in a magazine. The girl, about 10 years old, had been sexually exploited and had what Rivers calls "dead eyes." The photograph hung on a bulletin board facing her desk.
"Nothing that's happened to her … can change how much God loves her, and wants her to be his own," Rivers said.
The story of Michael and Angel, Rivers said, shows people the "difference between what the world says love is what real love looks like."
Photo courtesy: ©Pinnacle Peak, used with permission.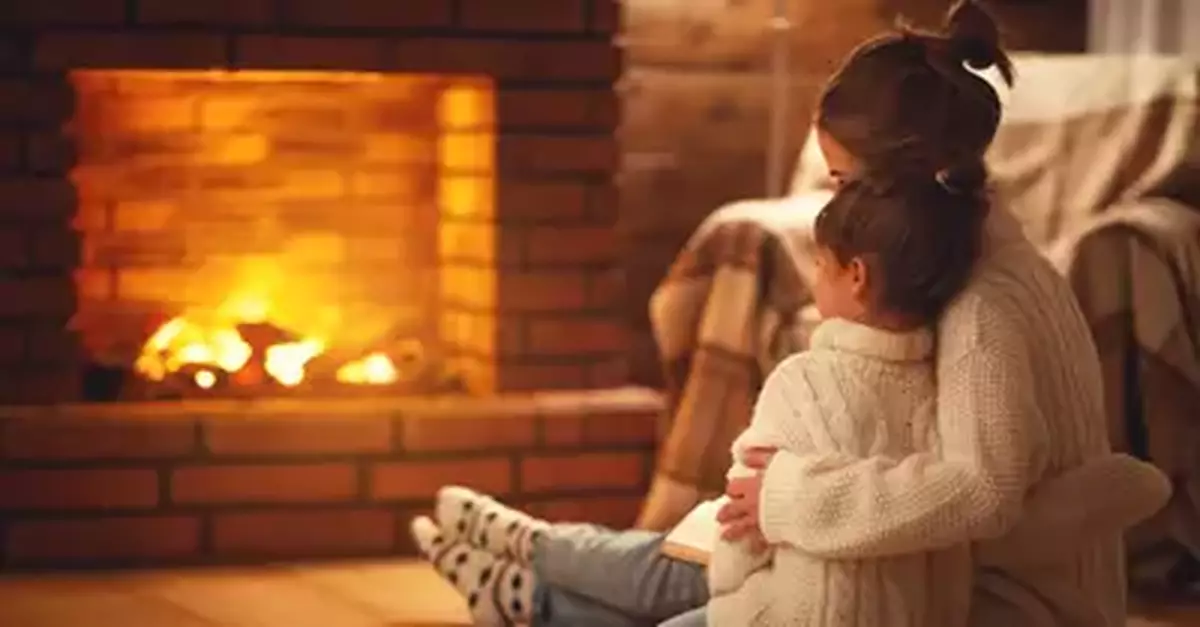 2. It's Allegorical … and Powerful
On the surface, Redeeming Love is a story about tragedy, self-worth, and the love of a man named Michael Hosea. Allegorically, though, the movie's message soars. That's because it's a story about all of us and our depravity, hopelessness, and continual desire to return to the sin that doomed us. More significantly, it's a story about an infinitely loving God who pursues us, repeatedly, in spite of what we deserve. It's a mind-blowing love that defies human logic.
Each time Angel runs away and returns to her old ways, you scream in your mind to Michael: "She's not worth it!" But then you remember: Angel's story is our story.
In the film's opening scene, Michael visits Angel in the brothel, fully clothed and ready to deliver a simple message: He's not interested in sex. "I'm gonna marry you. … Let me rescue you from this place." She kicks him out of the room, but begrudgingly agrees to his proposal after a cruel man beats her to the point of death. She and Michael live together in a scenic farm cottage 19 miles from town, yet the tug of her former life – incredibly – leads her to run away.
After she returns once again, Michael takes her outside, where they sit together and watch an early morning sunrise.
"That's the life I want to offer you, Angel," he says. "Warmth and color. Beauty and light."
He wins her over – for a few days. Before long, she's ready to trade a life of peace and joy for her old life of pain and sorrow.
"You're not that person anymore," Michael tells her.
"I'll always be that person," she says, echoing Satan's words to us each day.
Thankfully, that's not the end of the story.
Photo courtesy: ©Pinnacle Peak, used with permission.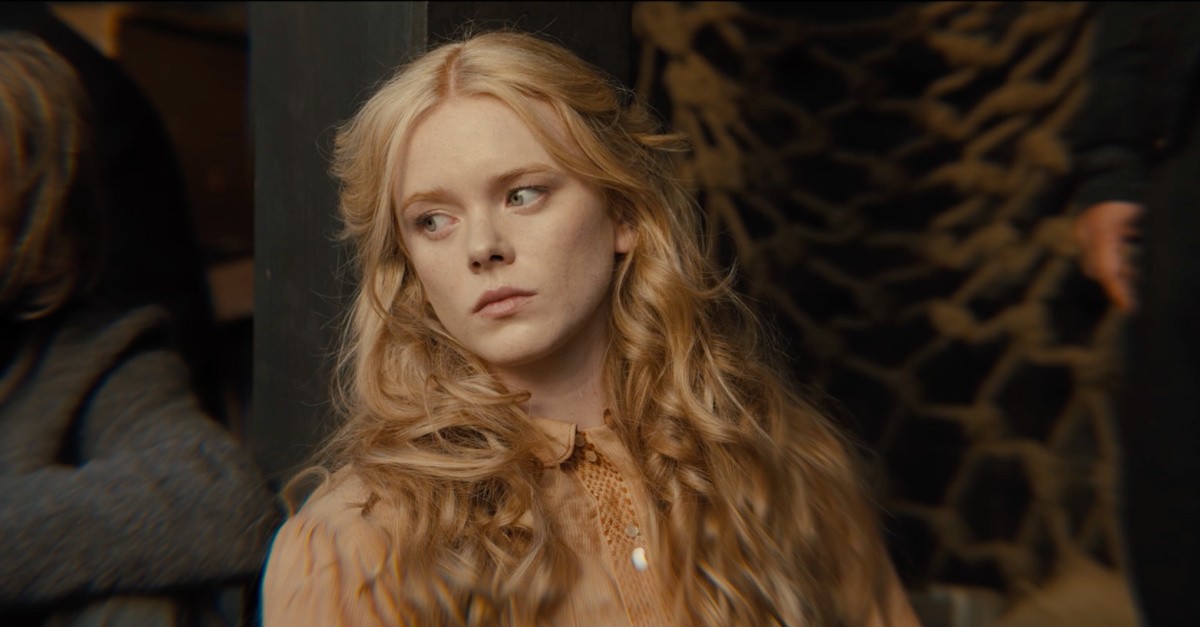 3. It's Excellent
Tom Lewis (Gentleman Jack, A Discovery of Witches) and Abigail Cowen (Stranger Things, I Still Believe) are outstanding in the lead roles, displaying great on-screen chemistry whether they're bickering or reconciling.
Although the book opens with a scene of Angel as a young child, the movie wisely opens with a scene of her as an adult, looking out of the window of her second-floor room. From there, we learn of her tragic background through flashbacks. (She was born out of wedlock – "she should never have existed," someone says – and was sold into prostitution after her mother, also a prostitute, died.)
The brothel scenes (more on that below) are only half the movie. By the film's halfway point, she and Michael are married and living on the farm, although they're sleeping in separate beds due to Michael's desire for her to fall in love with him. ("We're not ready," he says.) Soon, though, she's running back to the brothel, again and again.
Even though you know how the movie will end, you're nevertheless drawn into the story – mostly because of the friction between Michael's unexplainable love and Angel's (repeated) foolish actions.
It was directed by D.J. Caruso (xXx: Return of Xander Cage, I Am Number Four) and produced by several faith-based filmmakers, including Roma Downey, Cindy Bond, David A.R. White and Britany Yost.
Photo courtesy: ©Pinnacle Peak, used with permission.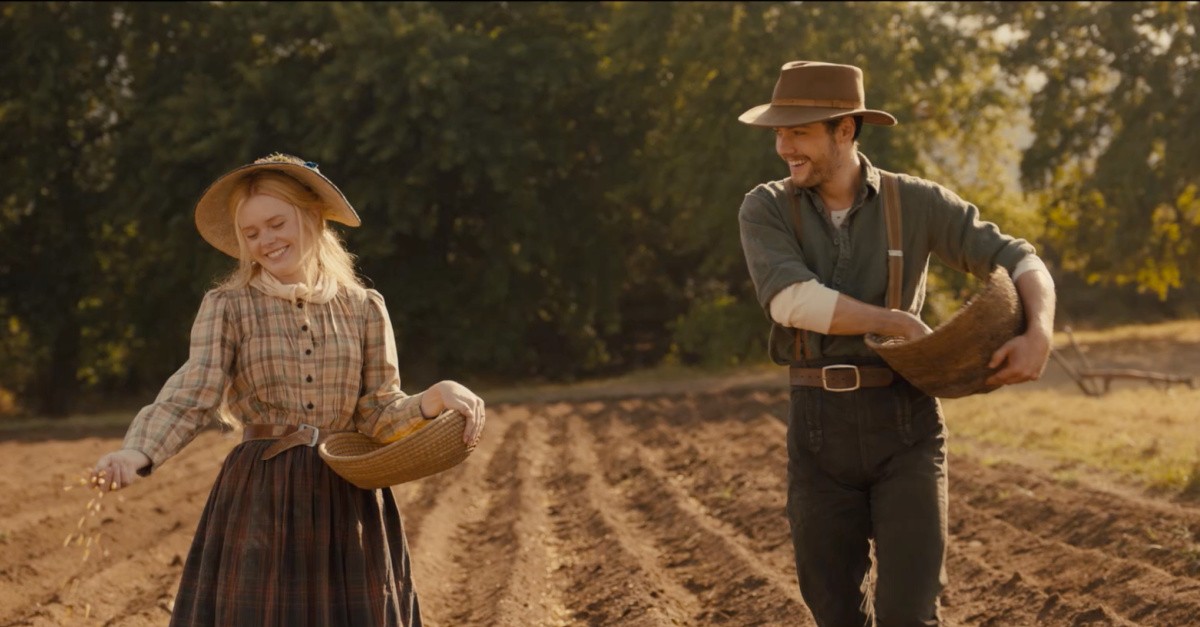 4. It Pushes the Envelope
Let's state the obvious: Due to the subject matter, it was never going to be possible to turn Francine River's novel into a family-friendly movie. With that out of the way, the question becomes: How do you tell the story without going too far?
Thankfully, the film contains no full nudity. It's rated PG-13 for "mature thematic content, sexual content, partial nudity, and strong violent content."
Largely, the sexual content is off-screen and implied.
Still, it can be titillating. In one scene, Michael is fully clothed when he visits her, but she is nude, with her hair covering her breasts. The film includes two other similar scenes, including one in a river and another in a brothel.
The movie's lone bedroom scene pushes the envelope. It takes place after Michael and Angel are married. They kiss and begin undressing. They embrace. Their hips thrust. They breathe heavily. They fall to the bed, with his hand covering her breast. Lasting about two minutes, it's not a short scene, either, even if everything stays covered. A movie whose core message isn't about sex suddenly becomes – although briefly – about sex. No doubt, it's depicting a sexual relationship within the biblical bonds of marriage, but God didn't intend such encounters to be recorded and broadcast to the world. Even if it's somewhat tame from a Hollywood perspective, it's still provocative.
No, the movie is not rated R, but several scenes should have been left on the cutting-room floor.
The film includes some language (details below) and a moderate amount of violence. (A man tries to drown Angel, and a woman then slaps her. We see a man choke another man to death, another man commits suicide and another is hung from a noose. We also hear discussion of a forced abortion.)
Redeeming Love isn't for kids. But for moviegoers who aren't troubled by its rough content, it's powerful. I shed a few tears at the end. Perhaps you will, too.
Redeeming Love is Rated PG-13 for mature thematic content, sexual content, partial nudity, and strong violent content. Language details: SOB (1), b--ch (1), a-- (1), h-ll (2), d--n (1), misuse of "God" (1).
Entertainment rating: 4 out of 5 stars
Family-friendly rating: 2 out of 5 stars
Photo courtesy, ©Pinnacle Peak, used with permission.