What Is the Gospel According to Ruth?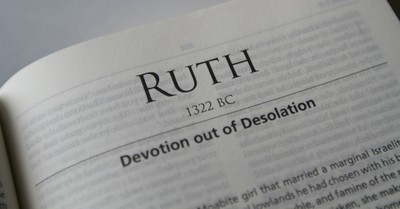 By Sarah Frazer, Crosswalk.com
The book of Ruth is the shortest book of the Old Testament. It tells the story of a two women who experience devastating loss, only to see God's love demonstrated in each other but also through God's redemption plan. We might think Boaz and Ruth are the two main characters, but Naomi and Ruth take center stage.
In this story of two women God shows how the Gospel can be found even here. In this tiny book we find a timeless story of loss, love, redemption, and the unseen hand of God's providence. Many preachers and teachers have shown us how Jesus is found in every story and every page of the Bible - even the Old Testament. The book of Ruth is no exception. We find Jesus' story, but more importantly we see the Gospel!
What Is the Gospel?
In 1 Corinthians 15 the Apostle Paul gives us a concise explanation of the Gospel. The gospel is the Good News of Jesus' death, resurrection, and forgiveness of our sins. Here is what Paul says:
Now, brothers and sisters, I want to remind you of the gospel I preached to you, which you received and on which you have taken your stand. By this gospel you are saved, if you hold firmly to the word I preached to you. Otherwise, you have believed in vain. For what I received I passed on to you as of first importance: that Christ died for our sins according to the Scriptures, that he was buried, that he was raised on the third day according to the Scriptures. I Corinthians 15:1-4
Do you notice the three aspects of the Gospel? The first is that Christ died, or paid the price for our sins. The next is that He was buried. There was a period of waiting. Christ then resurrects from the grave - redeeming death and sin once and for all. In the book of Ruth, we can find all four aspects of the Gospel. Most of this is found in the last two chapters of the book. Let's see how they are illustrated in the book of Ruth.
The Price Is Paid
After returning to Bethlehem, Ruth and Naomi find themselves in need of provisions. The first day back Ruth goes to the field of a man named Boaz. He shows her kindness and blesses her. That day she returns with what she has been given and Naomi rejoices.
God had orchestrated Ruth to find Boaz. Not only because he was a kind, compassionate man, but because according to Naomi, "Boaz is a relative of ours…" (Ruth 3:2) This means that the women could be brought back into the family through the purchase of the land. Naomi instructs Ruth to ask Boaz to be the redeemer. (Ruth 3:9)
Ruth goes and asks. Boaz agrees. In Ruth 4:6 we learn that another man has the right to pay the price for the land, and in doing so would also acquire Ruth as a wife. This was part of the Jewish law so that the dead man's family line would continue. This redeemer mentioned here in Ruth 4:6 was unwilling to pay the price. But Boaz was willing.
Then Boaz announced to the elders and all the people, "Today you are witnesses that I have bought from Naomi all the property of Elimelek, Kilion and Mahlon. Ruth 4:9
Just as Boaz paid a price to redeem Ruth and ultimately Naomi, Jesus paid the ultimate price to bring us back into His family Christ died on the cross. Blood is required for the remission of sins and Jesus shed HIs blood for us.
For you know that it was not with perishable things such as silver or gold that you were redeemed from the empty way of life handed down to you from your ancestors, but with the precious blood of Christ, a lamb without blemish or defect. 1 Peter 1:18-9

In fact, the law requires that nearly everything be cleansed with blood, and without the shedding of blood there is no forgiveness. Hebrews 9:22
Period of Waiting
After the Ruth approaches Boaz, she and Naomi had to experience a period of waiting. Naomi tells Ruth to wait and see.
Then Naomi said, "Wait, my daughter, until you find out what happens. For the man will not rest until the matter is settled today." Ruth 3:18
In the waiting we learn to trust God more. No one likes to wait, but God says that even the disciples and Jesus Himself had to wait for complete redemption. Jesus was in the tomb, buried in the dark for three nights. God's ways are not ours, but we can trust God is working in the waiting. Naomi and Ruth had to trust that Boaz was working on redemption as they waited.
Right now our family is walking a very difficult path. We have been hurt and our plans have been completely disrupted. We are now waiting. Our season of waiting is providing for us a time of healing. No matter what you are waiting on, may you see how God can redeem any season for His glory.
We have the advantage of reading the end of Ruth and Naomi's story. We also know what happens to Jesus after three days in the tomb. Friend, maybe today feels like a tomb, but just know that redemption and resurrection are coming.
Redeeming of Death
Death was defeated on the cross. As we read Naomi and Ruth's story we look back and realize their story began with death. After Elimelek, Naomi's husband, died, she was left with her two sons. They married Moabite women, one named Orpah and the other Ruth. After they had lived there about ten years, both Mahlon and Kilion also died, and Naomi was left without her two sons and her husband. Ruth 1:3-5
These men, Naomi's husbands and sons, were not resurrected from the dead. But God redeemed the death of those three men and provided something so beautiful for both Naomi and Ruth. Ruth became a wife, and soon after a mother. We know from Matthew 1:5 Ruth was in the line of the Messiah. This foreigner, who had no rights and no prospects, as given a family and a place of honor as the great-grandmother of the great King David! Naomi was also blessed as she miraculously was able to nurse Ruth's young son. The people in Bethlehem during that time rejoiced that God had given back to Naomi blessing after heartache.
Jesus' resurrection conquered the greatest enemy: death. As soon as Adam and Eve disobeyed and sin entered the world they began dying. Christ reversed that curse on the cross. Yes, we still face a physical death, but the spiritual death of being separated from God forever was removed.
Since the children have flesh and blood, he too shared in their humanity so that by his death he might break the power of him who holds the power of death—that is, the devil. Hebrews 2:14

It has now been revealed through the appearing of our Savior, Christ Jesus, who has destroyed death and has brought life and immortality to light through the gospel. 2 Timothy 1:10

Then they will go away to eternal punishment, but the righteous to eternal life." Matthew 25:46
The Book of Ruth gives us amazing insight into the gospel. The next time you read through this timeless Old Testament story remember Jesus' death, burial, and resurrection. Rejoice in knowing God is still in the business os redeeming His people.
If you would like to study Ruth's story even further, download this Bible Reading and Study guide!
Photo Credit: ©Sparrowstock
---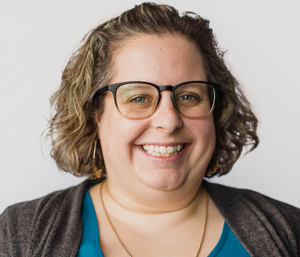 Sarah E. Frazer is a wife, mother, and writer who loves to strengthen and encourage the weary mom to connect with God so that she can replace feelings of discouragement, disillusionment, and disappointment with God's daily peace. Sarah is the author of several Bible study resources found on her website, sarahefrazer.com/shop. Follow her on Instagram here and download her Psalms of Gratitude for free here.