4 Ways to Walk with Your Friend in Her Season of Suffering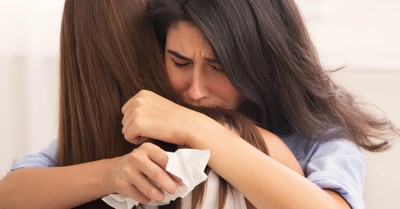 By Rachel Baker, Crosswalk.com
The pregnancy test came back positive, in my exhilaration and excitement all I wanted to do was share the good news with one of my dear friends.
I called her up, but as soon as I heard her voice on the other line I knew that something was wrong. Rather than blurting out my exciting news I asked what was going on. She had just miscarried, again. I could hear the anguish in her voice, the brokenness and devastation. My news could wait.
Although I am no stranger to suffering, I've had to learn how I can show up for others who are suffering. You might think that if you've suffered you automatically understand how to walk with those who are suffering, as it turns out, no.
In those days after receiving my friends news showing up for her meant dog sitting while her husband took her to the hospital. During that time my husband and I helped provide meals. We prayed and wept with our friends.
Ultimately, showing up well for my friend meant being there and allowing "there" to last as long as my friend needed it to.
Today, if you have a person in your life who is walking through a time of suffering I want to encourage you to show up in real and tangible ways. Keep in mind, one person's suffering may not look like the suffering of someone else. My friend was suffering not just the loss of a baby but also the loss of a dream.
I've had friends suffer the loss of a job, a spouse, a child, a home, and yes even a beloved pet. As we grieve, whatever it might be that we are grieving, it helps to grieve in community. God built us to desire and need community.
So, today, as you walk alongside your friend, here are some helpful suggestions on how to show up well.
Photo Credit: ©GettyImages/Prostock-Studio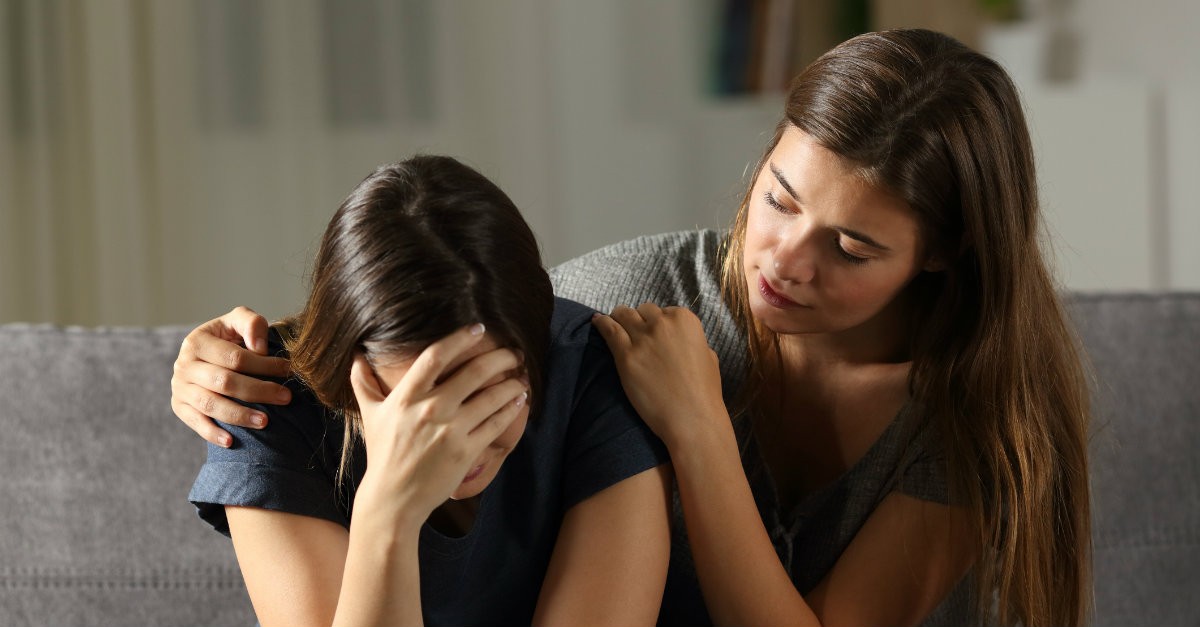 1. See Their Suffering
In my own personal experiences with suffering, I've often attempted to stuff or hide my pain.
Showing up to life in the midst of personal suffering is tricky. The world wants us to be vulnerable, but not too vulnerable. Grieve, but not too long. Cry, but not publicly.
Sometimes determining where we can safely process grief is difficult and confusing.
As a friend, we can give the women in our life freedom to grieve by honoring the place that they are in. This requires us to see their suffering, I mean actually see it.
It is one thing to know that a friend is going through a rough patch, it's another thing altogether to validate their pain and to sit with them as they process, as uncomfortable as that might be.
"Therefore encourage one another and build each other up, just as in fact you are doing." —1 Thessalonians 5:11
The friends that God has placed in our lives are gifts to be cherished. Through friendship we are built up and made stronger.
If we can meet our friends in the middle of their grief and truly see their pain we can become a part of building them up and helping them heal. Just seeing their pain can allow them to begin to process it.
Sit with them in their sadness. Don't rush them. And remind them that although you'll try your best to understand, God can truly see their whole heart.
In Genesis 16:13, after Hagar and her son almost died in the desert but God rescues them, it says "She gave this name to the LORD who spoke to her: 'You are the God who sees me,' for she said, 'I have now seen the One who sees me.'"
Photo Credit: ©Getty-AntonioGuillem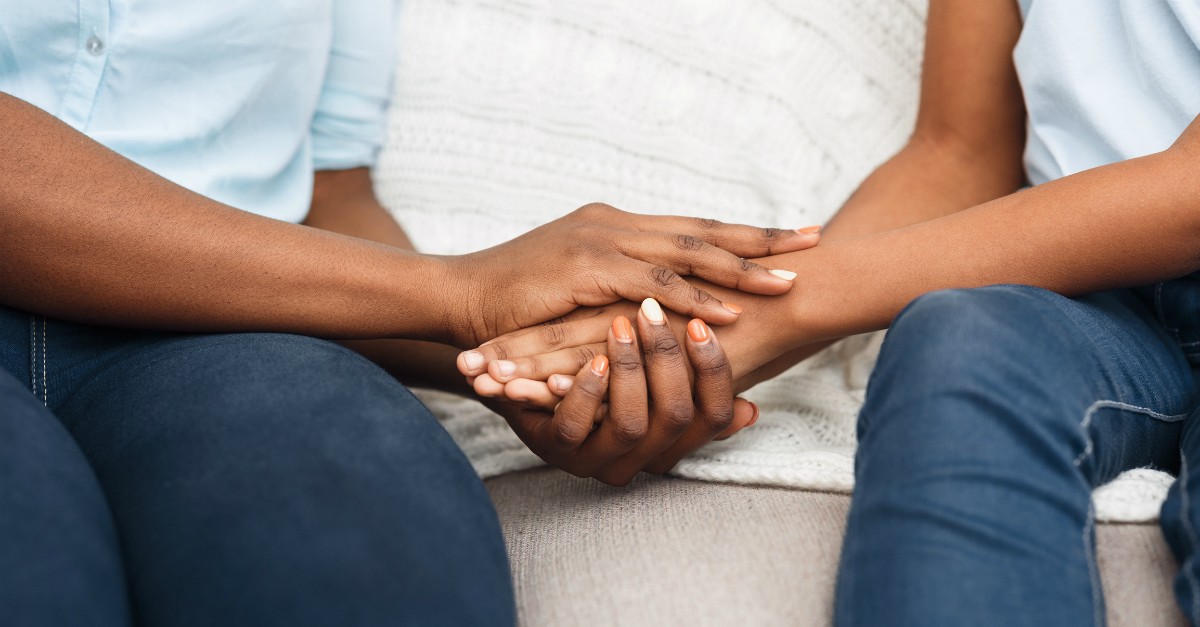 2. Encourage Them to Talk
Years ago, while I was in a season of grief, a friend sat with me.
Rather than offering up encouragement or well-meaning one-liners she began to ask me questions. The way she handled me in those days when I felt so fragile was incredible.
She never asked, "how are you?" or "do you want to talk about it?" Instead her questions were piercing and pragmatic.
She asked, or rather, prompted, "Tell me about your loss." "What are some of your favorite memories of the person you lost?" "Tell me about the relationship you had with that person."
To my knowledge and best recollection, I've never had anyone, with the exception of my therapist, ask me questions about my personal grief in a way that prompted me to talk. This friend wasn't afraid of my grief, nor was she afraid to allow me to process in her presence.
Through the process of being prompted to talk out my grief I've learned that as friends we can be incredibly present for the people around us who are suffering by drawing out memories and by attentive listening.
I believe that the same applies to all situations of grief.
Perhaps your friend hasn't lost a person, but instead a job. In any loss we must process grief. We can use deliberate questions to draw out pain that is often stifled and hidden away.
Once we ask the questions, remember the vital next step is that we really listen.
It's a normal first instinct to want to give advice or talk about your own problems, but fight the urge. Swallow your words, hold her hand, and just listen.
Photo Credit: ©GettyImages/Prostock-Studio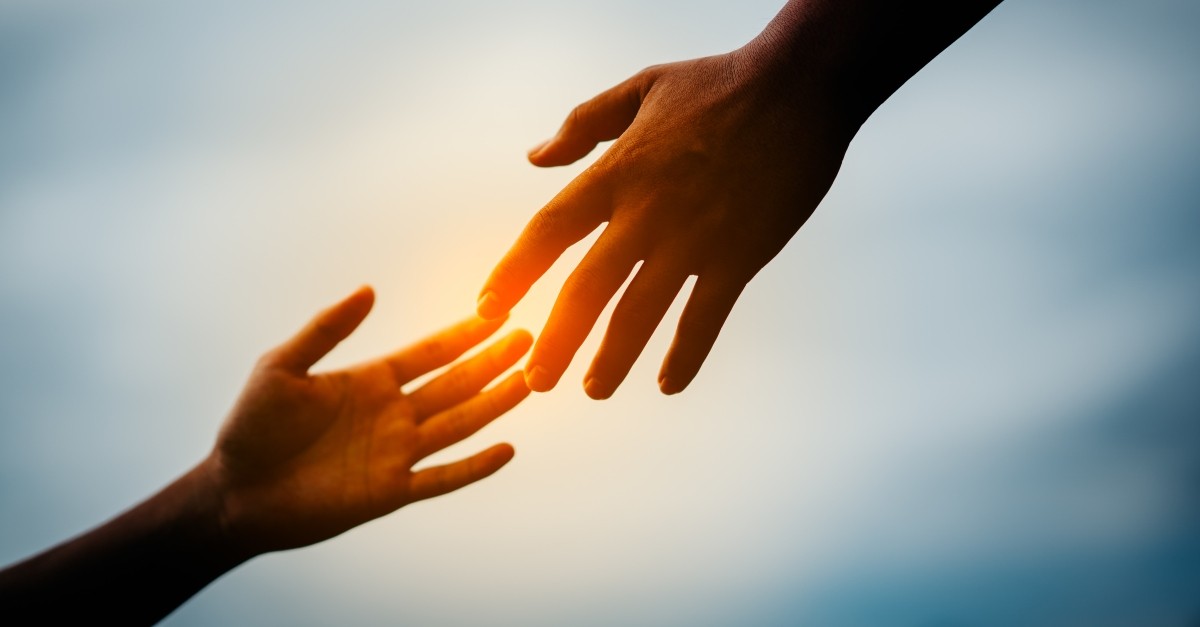 3. Show Up Physically, If Possible
In the final days of my dear Uncle's life, my Aunt attempted to care for him all by herself. Caring for him was a huge task and she didn't want to burden anyone else with it.
I went to their house for a visit not quite realizing the gravity of the situation. Once there my eyes were opened and I realized that my Uncle was in fact in his final days.
At one point my darling Aunt attempted to usher me out of her home. She thanked me for coming and encouraged me to go home. I refused.
I stood my ground and refused to leave her alone, and then called my sister and told her she had to come help as well. Those days all rolled into each other, we grieved as we watched my Uncle prepare to part this world.
It was hard, it was painful, and yet if given the choice to do it all over again, I'd chose the same.
You see, I believe that the burden of grief is not something that we should shoulder on our own. So, if at all possible, when walking a beloved friend through a season of suffering be physically present.
This doesn't mean you have to move in, but check on your friend as frequently as possible. Be there without expectation and try, as best you can, to keep your friend from becoming isolated.
Telling loved ones "let me know if you need anything" can show empathy and consideration. But what is much better are questions like "I'm going grocery shopping. What do you need?" or "I'm bringing dinner over tonight. Any requests?"
This communicates that you're really there to help and won't entertain the idea that they're a burden.
Photo Credit: ©Getty Images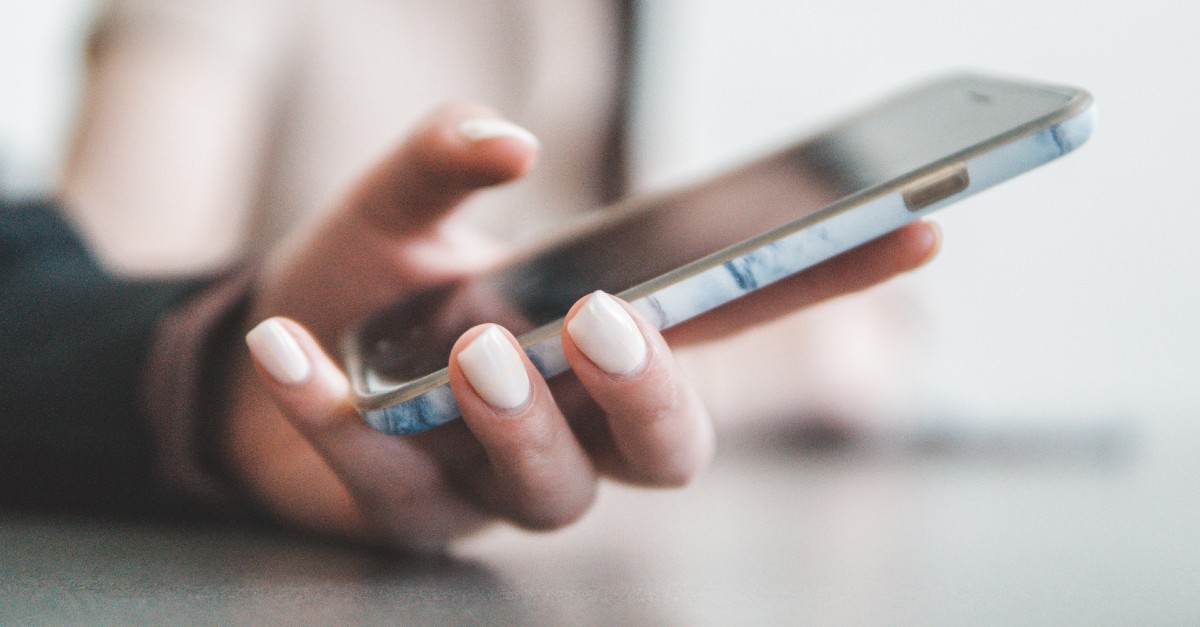 4. Remember to Check In, Even Months and Years Later
It's been six years since my Uncle passed away. He passed in the middle of February. My son's birthday is at the beginning of the month, and a year after he passed I gave birth to my daughter. The date of his passing is now encircled with birthday parties and celebrations.
Nonetheless, right around the anniversary of his passing I find myself extra tired, sad, and heavy feeling.
Even when I forget the that the date is coming up in my mind my body does it's best to remind me.
A friend of mine whose first child was stillborn grieves not only on the date that she lost him, but also around the time that his birthday would have been. A friend who was in a horrific car accident struggles with anxiety and fear just about the same time of her accident every year.
These rhythms are not a surprise. In fact, if we have suffered from grief or if we have a friend who suffers, remembering these dates and seasons of time can help aid in our own and their continued healing.
Being intentional to remember those dates for the people who we are the closest to can help them to feel free to grieve around the anniversaries of their loss. During those anniversaries we can show up for our friends in incredibly simple but thoughtful ways.
We can drop by flowers or a coffee or a card of encouragement. Focus on actions that will lift your friend up and give her life.
We are called to carry eachother's burdens.
Often times, walking alongside someone who is in a season of suffering requires emotional energy and fortitude. It is true, that sitting with those who suffer can become draining or emotionally exhausting.
Nonetheless, as Galatians 6:2 prompts we are to "carry each other's burdens, and in this way you will fulfill the law of Christ."
While being present with someone who is suffering can break our hearts it can also bless us. As strange as it is to say, I was blessed by getting to sit was my Aunt in her season of suffering. I grew through that process and learned better how to show up and be present for my friends if and when they're in a season of suffering.
Rather than backing away from our friends who suffer we have an incredible opportunity to show up and love well. In the words of Jesus in John 13:35, "By this all people will know that you are my disciples, if you have love for one another." Let's be a people who are known by our love.
Photo Credit: ©Unsplash/Jae Park