Fun and Safe YouTube Channels Your Kids Can Enjoy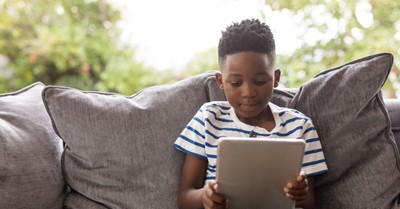 By Jaime Jo Wright, Crosswalk.com
YouTube. The name alone can cause a parent to have a panic attack. The idea of a child logging on and viewing who knows what online is terrifying, and let's be honest, we can't always be there to supervise. If we're more honest, we don't necessarily want to supervise. (Some of those channels can be very annoying to listen to!).
But let's face it, some screen time isn't a bad thing, and some YouTube channels are safe and fun to watch—if not educational. Below is a list of some channels that we've found to be "safe" in our home. I put "safe" in quotes because it is YouTube, so content changes, and I've no control over what is posted in the future or in a video I've not yet viewed. However, these channels have proven to be neutral for our family, and I feel comfortable walking away and allowing my kids to view them without me peering over their shoulder to listen and screen. Here are a few, and as always, be sure you take a listen first yourself just to make sure it aligns with your own family's values and beliefs:
Mia Dinoto – Have a young girl who wants to hang with someone cool on YouTube and see stories, DIY's, vlogs, gymnastics, dancing, self-care, and more? Try Mia's channel. And bonus, she is open about her faith in Jesus. She incorporates it into her videos by addressing her own experiences such as Bible study supplies, Christian girl-talk, her testimony, worship music, and more! It's a safe channel for impressionable girls to watch and a place you, as a parent, won't feel too worried about leaving the room while it plays.
Taylor and Vanessa – This is a YouTube challenge channel. What's a challenge channel? It's a place where kids can watch other kids (or adults) complete challenges that are funny, scary, silly, sometimes gross, etc. Taylor and Vanessa are two sisters who complete multiple challenges together and do fun-loving prank videos. All in all, it's a fun channel to subscribe to, and while it's primarily aimed at girls, boys may even enjoy watching some of the challenges too. Some of the challenges they like to complete are: their dog choosing their meals, slime challenges, 24-hour challenges, and shopping and food challenges—mindless entertainment for hours of fun.
Prestonplayz – This channel has over 11.8 million subscribers, which in and of itself is pretty amazing. This won't be for every kid; however, it will specifically attract kids interested in gaming and probably focus primarily on Minecraft. The cool thing is, Minecraft is actually a fun world-building game, and I've noticed my son's creativity blossoming while playing it. So, I feel there is some value in this one. With Prestonplayz, he pretty much plays his own Minecraft game while discussing what is happening. Granted, I get a little bored with it, but it does inspire my son's imagination, and to Preston's credit, so far, he's kept content and language clean for young ears. I'm good with it. And he has a lot of energy, which is rather fun if I do say so myself.
Annie – Follow the creative life of a teenage girl on YouTube. Where she gets all the money to redo, repaint, and redecorate her bedroom consistently is beyond me, but the fun fact is it's really neat to watch her interior decorating come to life. And, if that isn't enough, she also loves to shop, and girls can follow her adventures as she shops for school, for summer vacation, and her first car. It's basically a teenager's reality show without the drama, and I've been pleased that I haven't (yet, anyway) seen or heard anything involving boy drama/girl drama, mean girl pranks, or boy craziness that can get a little too much for a girl's viewing habits! I enjoy this channel with my daughter, and Annie herself is quite nice to listen to.
Dude Perfect– if you aren't familiar with this channel, I'm not quite sure what to say because they've snagged over 57 million people of the world's population. These guys are essentially boys in grown men's bodies, and they do some wacky and crazy stunts, all while keeping it clean and family-friendly. They are fun and adventurous, from boomerang trick shots to stereotype parodies, to sports editions, to bucket list extremes, and boys and girls alike will find it entertaining. I won't lie, sometimes we turn them on the family TV for some brainless entertainment that we can enjoy together. And they have some pretty swag merch, too, if you're into that type of thing.
Ohana Adventure– Welcome to a family on YouTube who will basically adopt you and include you in their life. It's fun wholesome family scenarios, and while I've no intentions of sharing my daily activities with millions of people, the Ohana Adventure certainly has a blast doing it as a family on their channel. Join them as they surprise each other with neat surprises, pull some safe family pranks, celebrate birthdays, go on vacation, and even get braces on their teeth! Why is it entertaining for kids to watch? Mainly because the family is contrived of boys and girls and two extroverted parents who are willing to laugh at many things. Try it out. You may find yourself watching right along with your kid!
Unspeakable – Okay, I'll be the first to admit this channel can get on my nerves. The best way I can explain it is that it's a channel of frat boys who keep things clean, and the challenges have the maturity level of a middle schooler. They do things like: filling their entire house with plastic balls (not kidding), the last to leave the trampoline challenge, spending 24 hours in a moving truck, trying to punch through 100 sheets of cardboard to escape a cardboard fort, and more. It's filled with stuff hard-core boys will gravitate to. They are not quite young men, but they are decent and have PG language, and you don't have to worry about them dropping cuss words. If boys damaging toasters and yell-laughing bothers you, it may be a channel you want to skip. But, if you're okay with some serious testosterone-driven kid challenges, you'll find it worth a watch.
I'll be honest; I never thought I'd be writing a list of safe YouTube channels for kids to watch. I also wasn't entirely sure what to put on here. So, I did recruit my kids to suggest their favorite channels, hence the above list. I also spent time watching the videos (even though I've seen many of them before) and was pleasantly surprised to find out that the channels are staying consistent with their brands of family-friendly/kid-friendly. Let's hope that continues because kids and their loving relationship with YouTube aren't going away anytime soon. So, it's nice to have an approved list of channels they can watch in their agreed viewing time, and you can actually walk away from and get something accomplished other than screening channels in hopes something awful doesn't sneak its way into the show.
I leave you with this one disclaimer: content changes daily. So, even though I list these as "safe," be sure to do periodic check-ins because let's face it, even the best of YouTube channels has the potential to let us down. A "safe list" is only as safe as you make it to be under your discretion.
Photo credit: ©GettyImages/Wavebreakmedia
Jaime Jo Wright is an ECPA and Publisher's Weekly bestselling author. Her novel "The House on Foster Hill" won the prestigious Christy Award and she continues to publish Gothic thrillers for the inspirational market. Jaime Jo resides in the woods of Wisconsin, lives in dreamland, exists in reality, and invites you to join her adventures at jaimewrightbooks.com and at her podcast madlitmusings.com where she discusses the deeper issues of story and faith with fellow authors.
Related podcast:
The views and opinions expressed in this podcast are those of the speakers and do not necessarily reflect the views or positions of Salem Web Network and Salem Media Group.
Related video:
Are you in the trenches with your toddlers or teens? Read Rhonda's full article here!