2 Life-Changing Prayers from It's a Wonderful Life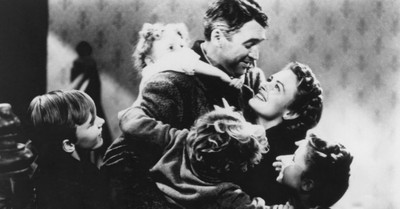 By Deborah Nayrocker, M.Ed., Crosswalk.com
The movie classic It's a Wonderful Life has been a meaningful part of the American Christmas tradition for decades. Aired on primetime television at Christmas time, the movie is a vivid reminder that life is comprised of joys and heartaches. It lives on as one of the most inspirational films of all time.
Directed and produced by Frank Capra, the movie was released by R-K-O Pictures in December 1946. The story timeline begins in 1919, one hundred years ago this year. The story spans from the year 1919 to 1945, when World War II ends.
When actor James Stewart returned home from service in World War II, Frank Capra asked him to play the main character in his new movie. Having worked with Frank Capra before, Stewart accepted the role of George Bailey. This was a perfect choice, since he certainly embodied the character.
I was first introduced to It's a Wonderful Life as a young adult. I was fascinated with the people from the little town of Bedford Falls. These ordinary citizens try to do the right thing as they live among their neighbors.
The hero of It's a Wonderful Life is George Bailey (Stewart). He has dreams of leaving his birthplace of Bedford Falls and making a difference in the world.
For many people this is an ageless movie with happy moments. But there are also moments of fear and sadness.
Have we ever stopped to consider the prayers that George Bailey prayed when he desperately needed God? We'll take a look at them as the story unfolds.
What Happens in It's a Wonderful Life to Lead George to Pray?
In the year 1919, George Bailey is a 12-year old boy working for a pharmacist. He wants to see the world and carries brochures with him of far-away places.
George has dreams for the future. After he travels he wants to go to college and become an engineer, building skyscrapers and bridges. He wants "to do something big and something important."
As a young man he works for his father at Bailey Brothers Building and Loan Association. The day finally comes when he's packed and leaving Bedford Falls to explore the world. On his way out of town he gets word that his father, Peter, had a stroke.
Shortly after, his father passes away. George agrees to step in for his father for a few months. But then, out of loyalty to the family business, he takes his father's place.
His long-awaited boat trip overseas is delayed. George expects his brother Harry to take his place in four years, after Harry returns from college. But four years later his brother returns home married, and with other plans.
George's dreams of seeing the world and going to college are shattered. He stays on working for Bailey Brothers Building and Loan in what he calls "a shabby office." But he remains since he cannot allow the greed of Henry Potter (Lionel Barrymore) to rule and take over the town.
George's values—of love, faithfulness, and loyalty—influence the people for the better in the town of Bedford Falls.
He falls in love with Mary Hatch, played by Donna Reed. She is thoughtful and caring. The day comes when they get married and plan to leave for their honeymoon in Europe. They are leaving town in a taxi when they see a crowd descending on the bank.
George gets out of the taxi, and ultimately leaves his plans of a long-awaited trip behind. He keeps the bank building going, saving the Building and Loan business during the Great Depression.
On a day before Christmas, George's absentminded Uncle Billy (Thomas Mitchell) misplaces a large bank deposit. The bank examiner visits the bank the same day.
George and Uncle Billy frantically search for the missing bank funds. They are terrified, knowing the customers will come to the bank, asking to withdraw their money. But there will be no cash.
Mr. Potter is the big banker in town. He knows the Building and Loan business is in trouble. Mr. Potter gets a warrant for George's arrest.
George Bailey's future looks dreadful. He may lose everything. The loss of funds will mean bankruptcy, scandal, and jail for him.
George Turns to Prayer in It's a Wonderful Life
Not sure which way to turn, George turns to God and pleads for help. He believes there is no way forward. In the scene at the bar, George is disheartened and falls into despair. He prays a prayer of brokenness.
He makes his first life-changing prayer:
"Dear Father in heaven. I'm not a praying man but if you're up there and you can hear me, show me the way. I'm at the end of my rope. Show me the way, God."
"Show me the way, God."
This is a prayer we may have prayed when we felt that our back was against the wall. We have given up on human resources. All we can do is seek God and rely on him for answers.
Like George, we have a longing for God. We have access to a great Friend and a great relationship. God says, "Never will I leave you; never will I forsake you" (Hebrews 13:5).
"Without faith it is impossible to please God, because anyone who comes to him must believe that he exists and that he rewards those who earnestly seek him" (Hebrews 11:6). With faith we do not lose heart and we continue to persevere.
When you've lost your way, pray. Ask God to show you the way.
What Leads George to Pray a Second Time in It's a Wonderful Life?
Still in deep distress, George leaves the bar and goes to a large bridge. Standing on the bridge, he's contemplating if life is worth living.
But when George hears someone splash in the water and hears a cry for help, he jumps in to rescue him. He rescues Clarence, his guardian angel.
When George tells Clarence he wishes he had not been born, the gentle angel has an idea. They both go back in time and revisit the little town. It was as though George had never been born.
They visit the town of Pottersville, where the wretched Mr. Potter has had control. George's family and friends don't recognize him. His wife Mary looks at him as if he is a complete stranger. He is treated as if he never existed.
Without George's existence, Pottersville is a dreary and depressing place. There is no Bailey Park. In its place is a cemetery that is cold and morose.
Standing at the cemetery, looking at the gravestones, George realizes he doesn't want Pottersville. He deeply misses his family, especially his dear wife Mary and his children. He misses his good friends and remembers the way life used to be.
Then he prays a second life-changing prayer.
In desperation he pleads:
"Please God, let me live!"
In spite of the problems he's facing, he is willing to move forward. He knows it will take courage.
King David, who was once an ordinary shepherd, knew about courage. David said, "I will not die but live, and will proclaim what the Lord has done" (Psalm 188:17). Throughout his life, David had faced many insurmountable circumstances.
And so, at the scene on the bridge, George begs God to let him live. In an instant, he is no longer in Pottersville. He is back in Bedford Falls.
Overjoyed, he makes his way back home on Christmas Day. His family and friends come to his rescue.
They surround him and honor him. They bring him any extra cash they have so that the bank is made whole.
Together they all celebrate, singing, 'Hark the Herald Angels Sing, Glory to the Newborn King.' George is overcome with tears of joy; because prayer has returned him to the life he loves.
Choose life – and take the right road Home!
Photo credit: ©Getty Images/RKO Pictures/Handout
---
This article is part of our larger Christmas and Advent resource library centered around the events leading up to the birth of Jesus Christ. We hope these articles help you understand the meaning and story behind important Christian holidays and dates and encourage you as you take time to reflect on all that God has done for us through his son Jesus Christ!
What Is Christmas? Understanding History, Origin and Traditions
The History of Santa Claus: Origin of St. Nicholas & Christmas Traditions
Beautiful and Inspiring Christmas Prayers
The Beautiful Meaning and Purpose of Advent
Advent Prayers
Advent Wreath & Candles - Understanding the History, Meaning, and Tradition
The History and Meaning of the Advent Calendar
Related podcast:
The views and opinions expressed in this podcast are those of the speakers and do not necessarily reflect the views or positions of Salem Web Network and Salem Media Group.
Related video:
What were the prophecies of Jesus' birth in the Bible? How many references did the Old Testament make to the coming of a messiah to save the children of Abraham? See the numerous biblical prophecies of the birth of Jesus Christ and what we can learn from the Old Testament about His divinity in this collection of scripture quotes.