Don't Just Hear Him - Heed Him! - Encouragement for Today - September 4, 2019
Crosswalk.com

"But don't just listen to God's word. You must do what it says. Otherwise, you are only fooling yourselves. For if you listen to the word and don't obey, it is like glancing at your face in a mirror. You see yourself, walk away, and forget what you look like." James 1:22-24 (NLT)
I heard the hum of her sing-song chatter as I carried my laundry basket down the hallway. So, when I passed her bedroom, I paused at the door to watch her carefree play.
My 4-year-old sat cross-legged on the carpet with a Barbie doll in one hand and a plastic pony in the other. She waved her hands to the beat of the song she was singing and turned those lifeless toys into leaping dancers.
I watched my daughter's imagination spill across the canvas of her bedroom floor until the pink backpack hanging on the doorknob reminded me that soon, I'd need to take my playful one to preschool.
I knocked on her door and walked across the room to announce it was time to clean up her toys. But before I could say a word, my girl puckered her lips into a reluctant pout and covered her ears with both hands.
"What are you doing?" I asked as I swallowed a giggle and stared at my daughter's ridiculous pose. "I'm covering up my listeners," she replied.
"I can see that," I acknowledged. "But why?"
"Because if I don't hear what you say, I won't have to obey," my daughter replied with total sincerity.
I was about to respond with a reprimand when I realized that this childish charade might be a reason for celebration. It proved she was beginning to understand that listening and obedience go hand-in-hand.
That's a precept I'd been diligently trying to teach our young children —
"Listen and obey," I would say when I asked my son to put on his socks and shoes before he headed outside to play.
"Listen and obey," I would prompt when I told my daughter to wash her hands before dinner.
"Listen and obey," I would encourage when I reminded sleepy ones to brush their teeth before climbing into bed.
You see, at that tender time in their development, I didn't want my children to merely receive my instruction; I wanted them to respond to it as well.
Looking back, I realize my parenting motto wasn't just a wisp of wisdom for preschoolers; it was an echo of God's expectation for all of us.
Throughout Scripture, God makes it clear He doesn't just want us to hear Him and His Word. He wants us to heed it too.
James 1:22-24 puts it like this: "But don't just listen to God's word. You must do what it says. Otherwise, you are only fooling yourselves. For if you listen to the word and don't obey, it is like glancing at your face in a mirror. You see yourself, walk away, and forget what you look like."
Though I've never read my Bible and promptly covered my ears like my 4-year-old did, I've certainly closed my Bible and failed to follow God's instructions. I've heard God command me to forgive, yet I've harbored bitterness in my heart.
I've heard Him whisper, Go, yet I've stayed in my comfortable corner.
I've heard Him urge, Believe, yet I've doubted and worried.
Maybe, like me, you have struggled to be both a hearer and a doer of the Word.
May I share a simple habit that's helping me?
When I finish reading the Scriptures — whether a few verses or a few chapters — I pause and pray, Lord, show me how to obey this specific Word You've given me.
Then, when God reveals my next step, I accept the challenge and do what my little girl did on that day long ago … I humbly ask my heavenly Father for help to follow through.
Eventually, my daughter unfurled her fingers and exchanged her pout for a subtle smile. Then, with an apologetic shrug, she said, "I want to listen and obey, Mommy … but I'll probably need your help."
I nodded and dropped to my knees. And, together, we put those dancing toys away.
Dear Jesus, forgive me for all the times I've heard Your Word but failed to heed it. Help me as I seek to listen and obey. In Jesus' Name, Amen.
TRUTH FOR TODAY:
Mark 9:7, "Then a cloud formed, overshadowing them, and a voice came out of the cloud, 'This is My beloved Son. Listen to Him and obey Him!'" (AMP)
RELATED RESOURCES:
We're all waiting on something in life, and can wonder if God sees us or if He even cares. It's our prayer that Encouragement for Right Now, a collection of topical devotions, will serve as your reminder that God will not abandon you, no matter how long you've been waiting. There's only one week left to donate to Proverbs 31 Ministries and get your copy, as our way of saying thanks! Donate today!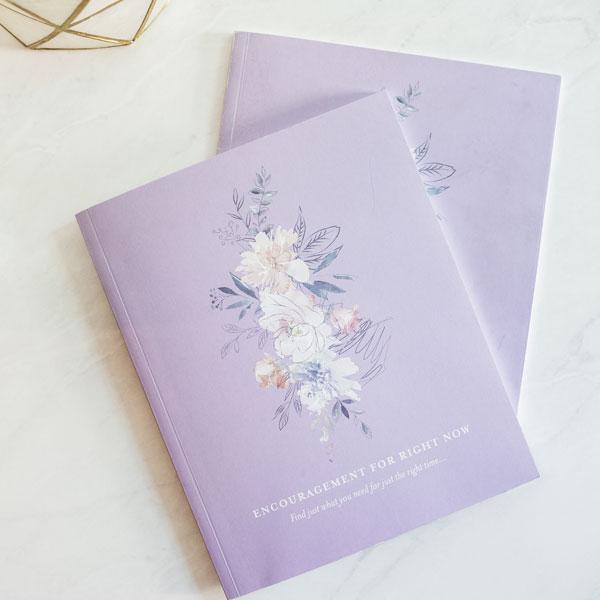 CONNECT:
For more encouragement, connect with Alicia Bruxvoort on Facebook.
REFLECT AND RESPOND:
What's one thing you need to do today to obey God's Word? Share your idea with a friend, and ask her to hold you accountable to following through.
Share your thoughts! What helps you obey, and not just hear God's Word?
© 2019 by Alicia Bruxvoort. All rights reserved.
Proverbs 31 Ministries
630 Team Rd., Suite 100
Matthews, NC 28105
www.Proverbs31.org