Is God Trying to Stir Your Heart? - iBelieve Truth: A Devotional for Women - February 2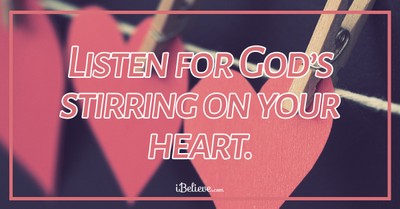 Crosswalk.com

Is God Trying to Stir Your Heart?
By: Maggie Meadows Cooper
My youngest loves to drink chocolate milk in the morning. A little milk, a little chocolate syrup, and voila! But did you know there are a couple of different ways to make that voila! happen? You can either put the top on the sippy cup and shake it real good... or you can stir it with a spoon. It turns out my very opinionated five-year-old likes the long drawn-out way. Get a perfectly good spoon dirty and stir slooooowly, so that it doesn't make any bubbles. But when Mama is in a hurry, I would much rather shake it, get quick results (even though they may be a little messy) and get on with the morning. But that doesn't yield the smooth, carefully created chocolate milk my daughter longs for.
And do you know that this scenario is so symbolic of how the Lord works in our lives? As I was reading in Judges 13, I came across this verse (speaking of Samson): "And the Spirit of the Lord began to stir Him…" And again in Ezra 1: "He (the Lord) stirred the heart of Cyrus…" And again, "Then God stirred the hearts of the priests and Levites and the leaders of the tribes of Judah and Benjamin…"
We see that many times when the Lord stirs someone, he is preparing them to be used for His glory. He doesn't shake them carelessly with little thought to the mess or timing of the process. No, He carefully stirs their hearts to action. Merriam-Webster defines the word stir in numerous ways, but the following definitions are closest to the meaning in this context: "to rouse to activity; evoke strong feelings in; to call forth".
What Does It Feel Like to Have God Stir Your Heart?
When I think of the times the Lord has used me to draw others to Him, it always started with a soft nudging or stirring in my heart. First, a small longing to act or help someone in some way. Then, that longing somehow started to take shape and become clearer as it became stronger. When you think of the way a spoon stirs chocolate milk, it creates a larger outer wall with a deeper center, then as the stirring slows, the liquid levels out. I think this is how the Lord works with us as well.
But the thing about feeling that stirring is it can make you feel anxious, nervous, afraid, and questioning the future. I am embarrassed to say that because of that, there have been times I felt a stirring... and ignored it. It might have simply been a nudge to speak to someone who made me uncomfortable. Not fight battles with the Philistines or rebuild the temple in Jerusalem as was the case in the verses above. And yet, I didn't yield to the moving of the Holy Spirit.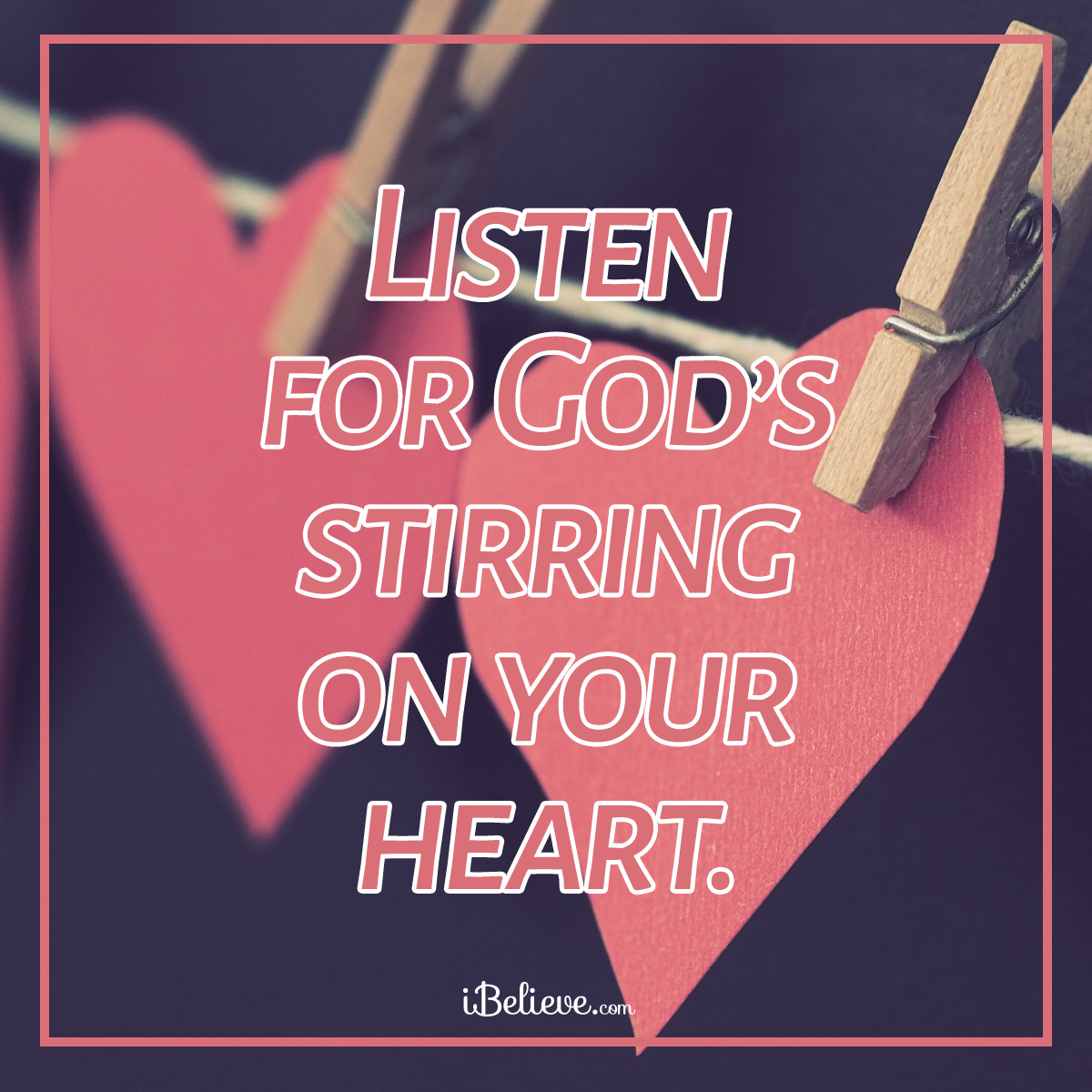 What Should We Do When We Feel God Stirring Our Hearts?
So ladies, what should we do when we feel that stirring? Here are a few steps you may want to think about taking:
1. Pray.
You knew this was coming, right? It's not rocket science. But it is immensely important. When you feel a stirring from the Lord, you must go to the source first. Acknowledge what you feel the Lord putting on your heart and ask Him to guide your steps. Ask for wisdom and discernment as to how you should proceed. Ask Him for the next right step. It might be a phone call or an email or an application or physically going somewhere. But pray, y'all, believing that He will give you the courage and strength you need for the task ahead of you.
2. Seek Godly counsel.
It is so very important to have mentors in your life who know the Lord, have walked a little farther than you have, and are willing to offer Godly advice based on scripture and covered in prayer. Asking a mentor for guidance is very different than gossiping with a friend about a situation or putting a poll out on Facebook. When you feel a stirring from the Lord, it is important to take it seriously and guard it for conversation with those who will lead you with intention and purpose.
3. Take one next right step forward. Then wait.
So sometimes this is the hardest part. You have prayed. You have listened to Godly counsel. And you have taken that first step. The stirring in your heart may be growing stronger, but that doesn't always mean the Lord is ready for you to take another step. His direction may only be to wait. And that's what you have to do. And most likely, you start the process over again...pray, seek Godly counsel, take a step, repeat.
Oh, y'all. When you feel the Lord stirring you on to move for Him, don't ignore it. Don't pretend you don't feel it or wait for someone else to act. We each have a specific purpose and the Lord may give us many opportunities to serve Him and shine His light to others.
My prayer is that we will prepare our hearts and minds now so we won't let one opportunity pass us by.
---
Maggie Meadows Cooper is a wife, mother, educator, author, and blogger with a longing for women to grow a heart for Jesus and others. She is the author of the children's book Bumper, helping others to see that the heart is what counts most. She blogs at The Little Moments about what the Lord is teaching her in everyday life and contributes to Blogs by Christian Women, Devotional Diva, She Disciples, and Connecting Ministries. An educator with an M. Ed. in Early Childhood Education from Auburn University (War Eagle!), she has eighteen years of experience teaching and currently serves as a Parent Coordinator in the Opelika City Schools. She loves all things chocolate, real Coca-Cola, and leading the FBCO Teen Moms group. She lives with her husband, three children, and two rambunctious dogs in Opelika, Alabama.
Looking for authentic conversations about how to deal with body image, insecurity, and comparison issues as a Christian woman? The Compared to Who? Podcast is the show for you! Twice a week, we tackle tough topics like dieting, disordered eating, weight loss, aging, body dysmorphia, and more from a practical, grace-filled, gospel-centered perspective.