Aligning Our Hearts with God's Heart (Psalm 139:19-24) - Your Daily Bible Verse - February 5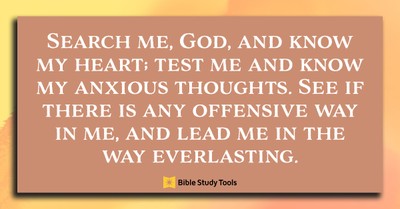 Crosswalk.com

Aligning Our Hearts with God's Heart (Psalm 139:19-24)
By: Cara Meredith
Today's Bible Verse: If only you, God, would slay the wicked! Away from me, you who are bloodthirsty! They speak of you with evil intent; your adversaries misuse your name. Do I not hate those who hate you, Lord, and abhor those who are in rebellion against you? I have nothing but hatred for them; I count them my enemies. Search me, God, and know my heart; test me and know my anxious thoughts. See if there is any offensive way in me, and lead me in the way everlasting. - Psalm 139:19-24
Sometimes, I have a tendency to pick and choose pieces of scripture that made me feel good. Psalm 139 is no exception. What I want to do is camp out in the first two-thirds of the psalm, seeking guidance and basking in the reminder that God created me in my inmost being, knitting me together in my mother's womb (13). I want for that feel-good smile to come to my lips, as I remember the words spoken from David to God and lean into the heart-knowledge that I am fearfully and wonderfully made, that "your works are wonderful, I know that full well" (14).
But if I keep reading past verse 18, I start to feel uncomfortable, and my friends, discomfort isn't always something I want to feel. I'm prone to skip over the rest of the psalm, especially those four verses that don't seem to sing a song of consoling guidance. If I'm honest, I want to even try and understand a set of verses that feel saturated with more hate than love.
When I start to dig into the text, I learn that the concept of "hate" was not actually about emotion, but "mostly an expression of preference and support." According to one commentary, it speaks to bigger ideas and cultural patterns of preference and loyalty.[1] Additionally, it is not the kind of hatred our 21st-century minds often think it is, after all, another writer says that is not "followed by malignity or ill will." Instead, like Jesus modeled for us, it is "accompanied with grief, pain of heart, pity and sorrow."[2]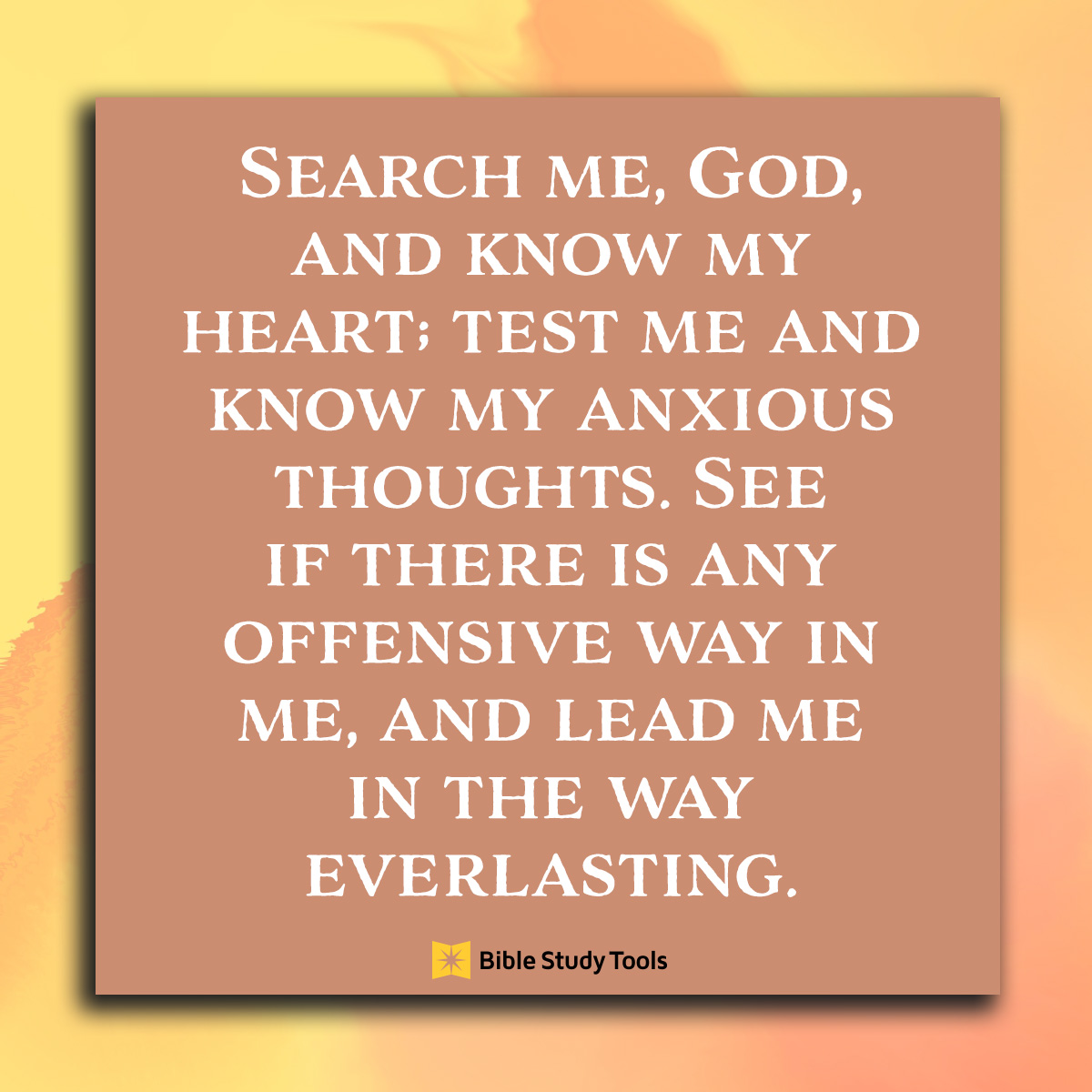 Does this not change the way you interact with these four verses?
For me, when I think about all of this, I can't help but think of David's humanity – a humanity that was nestled in a deep and intense love for God. Perhaps like the rest of us, David wants nothing more than to honor, revere and love the one who created the deepest parts of his identity. It's not so hard to then imagine that part of this honoring meant a soul so deeply intertwined with God's that it resulted in real emotions, not of hate, but of grief and pain and sorrow.
After all, these emotions of the pain God not only felt then, but continues to feel now – even for those who choose to hate and rebel against God's love – changes the way I interact, not only with this song, but also with the world around me.
I suppose the invitation is then simple: if our hearts are aligned with God, then our hearts will break for the things that break God's heart. We will seek justice, just as God seeks justice for every beloved child, and we will desire wholeness and flourishing for all – even for those we are tempted to call our enemies and for those who continue to rise up against God.
I trust it just might be the same for you.
---
Cara Meredith is a freelance writer and the author of The Color of Life. She lives with her family in the San Francisco Bay Area.
[1] "What does Psalm 139:21 mean?" https://www.bibleref.com/Psalms/139/Psalm-139-21.html
[2] "Psalm 139 Commentary – The Treasury of David," https://www.biblestudytools.com/commentaries/treasury-of-david/psalms-139-21.html
We want to experience God through the Bible… we really do!
But our good intentions fall flat when reading the Bible just doesn't seem to help us experience God in a real way. What should feel alive often feels confusing and boring and irrelevant. But it doesn't have to.
In the How to Study the Bible podcast, pastor and Bible teacher Nicole Unice brings life back to reading the Bible by walking listeners through her Alive Method of Bible study, helping us personally encounter God through his Word by giving us a practical, clear road map for understanding, interpreting and applying Scripture to our lives. Just click below to start listening now!